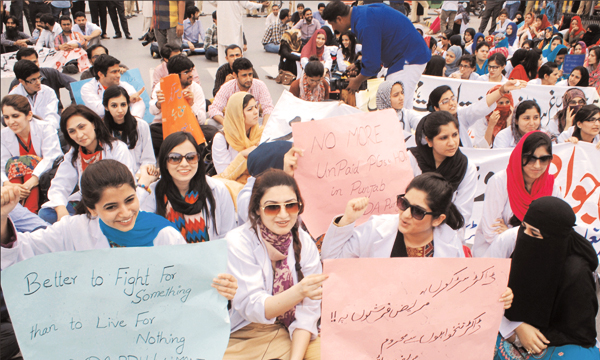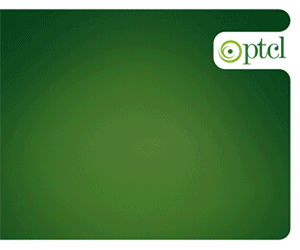 A group of young doctors, hailing from Young Doctors Association (YDA) Punjab h ave been protesting since 17 days outside Chief Minister House, boycotting their duties while patients suffer with aggravated health conditions, reported Geo News.  The sad news is that a one-year-old girl , Sana, died due to the absence of medical treatment today, Thursday.
The young doctors at the Mayo Hospital are boycotting OPDs by carrying out a sit-in at Mall Road seeking restoration of a sacked, post-graduate trainee. A young girl named Sana, who had been admitted to the hospital for the past 4 days, passed away on Thursday after she was denied medical treatment, family claims.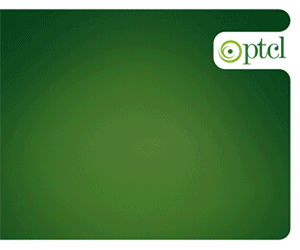 As Samaa News reported, the girl Sana, hailing from tribal areas, belonged to a Pashtun family. She was brought to the emergency ward of Mayo Hospital with light burn injuries to weeks back. She was later shifted from the emergency ward to the general ward, however, she was then denied treatment due to the ongoing protest.
Her family told Samaa News that the injury finally turned into cancer after waiting for two weeks. The doctors then asked them to seek treatment from another hospital since they were not willing to restore their duties.
https://twitter.com/MohUmair87/status/796691115839778816
Dr. Khurram Shehzad, the spokesperson for YDA stated that the sit-in and protest will continue till the sacked doctors at the Mayo Hospital are restored. The reason why these doctors were sacked is because they misbehaved and ill-treated most of the patients at the hospital, GEO News reported.
People were outraged by this act of irresponsibility and inhumanity. See how the general public reacted to the young girl's death.
#Lahore what is #GovtOfPunjab doing on the issue of #Doctors?
Patients & other public in extreme trouble.

— Nasir Zuberi (@NasirZuberi) November 10, 2016
https://twitter.com/MIR9002/status/796664810297495552
Remember health is responsibility of government. And govt has to solve problems of dr to ensure health facilities to citizens.

— Waleed Nasir (@waleednasir00) November 10, 2016
#YDA #YNA #Criminals #Culprits #Bastards #KillersOfHumanity
Government should act against them to relieve public#WeRejectYDABlackmailing

— Faizan (@FaizanAhmadZia) November 10, 2016
Doctors and nurses in private hospitals speak wistfully of the perks of govt hospital jobs. The #YDA should swap places with them. Bullies.

— Rameeza Majid Nizami (@RameezaNizami) November 10, 2016
Appalled at #YDA conduct.Humanity is abv self interest & political motives
Such apathy is beyond belief 😰
My heart bleeds fr ppl hu sufrd

— Nausheen A. Khan (@Nusho0) November 10, 2016
#YDA #YoungDoctorsAssociation are on strike and innocent people loosing their lives. #Doctors became criminals, than saving lives.

— Husham Yousaf (@HushamYousaf) November 10, 2016
Most of them are self financed that's why they didn't have any thing to loose. #WeRejectYDABlackmailing

— Syed Muhammad Ali (@alishah89_1) November 10, 2016
They should be expell. #WeRejectYDABlackmailing

— Syed Muhammad Ali (@alishah89_1) November 10, 2016
Exactly #YoungDoctors are miscreants & hooligans cos they dare demand security within the confines of hospitals! #WeRejectYDABlackmailing

— eek (@haloperidolol) November 10, 2016
It was patients' attendants who threatened & harassed the nursing staff. It was them who went violent with a doctor #WeRejectYDABlackmailing

— eek (@haloperidolol) November 10, 2016
Shame on all those calling them self a doctor,most of them r self financed.
#WeRejectYDABlackmailing

— Syed Muhammad Ali (@alishah89_1) November 10, 2016
@AtifSohailKhan see whats going on here. Now i understand why did you left pakistan #WeRejectYDABlackmailing

— Ibtsam Aslam Malik (@IBTSAm_ASLAm) November 10, 2016
first in Punjab … then in KPK … now back in Punjab … they should be dealt with an iron fist !! #WeRejectYDABlackmailing

— Rafay (@Ab_Rafe) November 10, 2016
What We're seeing On Tv (Exp.Geo.Dunya) regarding #YDADharna is just a replica of what we have seen in #PTIDharna. #WeRejectYDABlackmailing

— Asif Khan (@NiaziAK) November 10, 2016
Patients Suffering
More than 15,000 patients are suffering at the hands of the current strike and protest- several of the agitated patients were witnessed cursing the doctors.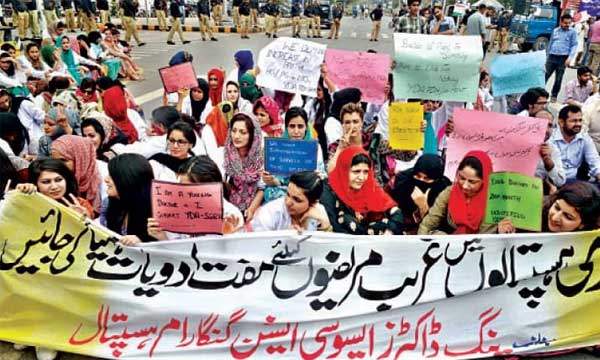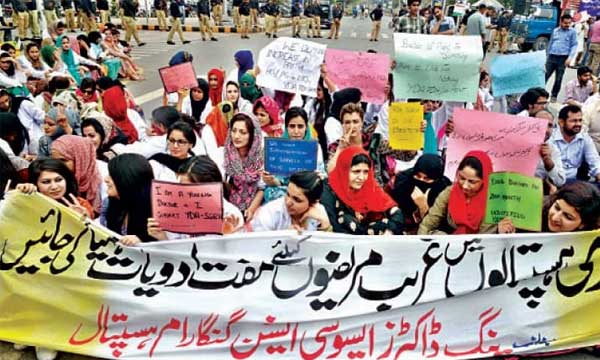 After failing to summon the doctors and nurses absent from duty, the administration of Mayo Hospital then called medical students on a voluntary basis to treat the patients.
Heavy Traffic jams
The sit-in have not only harmed the patients and taken an innocent's life, it has also caused major traffic jams at Club Chowk on Mall Road, Canal Road, Davis Road and Garhi Shahu, immensely disrupting the routine life; several ambulances were also stuck for hours.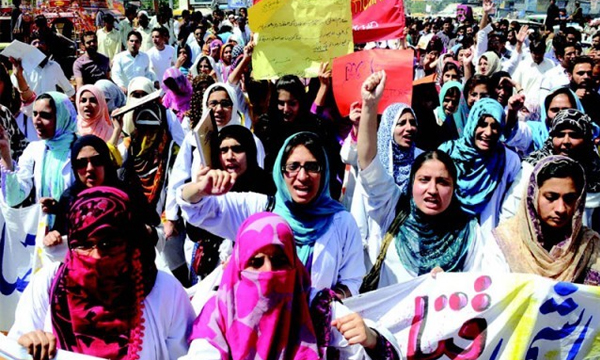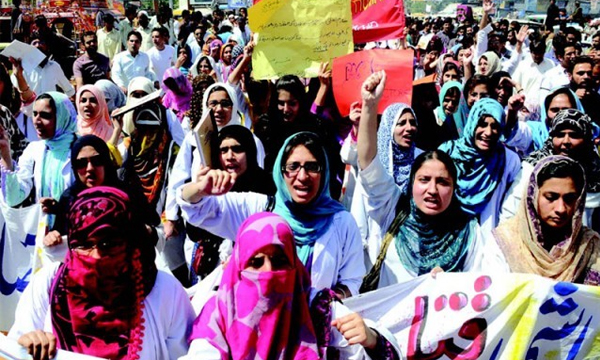 The residents also claimed that some of the doctors misbehaved with them. Most of them were clicking selfies and were seen eating and having fun at the protest, while the city was suffering and innocent lives were being lost.
It was demanded by the residents that strict action must be taken against the protesters by relevant authorities.
One last warning has been issued by the authorities to the protesting doctors and nurses to terminate the protest and restore their duties, but so far it has been futile.
Stay tuned to Brandsynario for more news and updates.