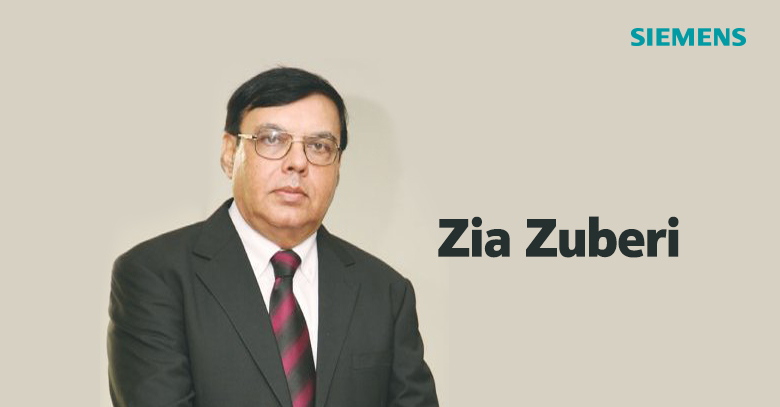 Mr. Zia Ul Islam Zuberi, Head of Communications, Siemens Pakistan Engineering Company explains the importance of PR in technology-based companies.
Synergyzer: What lifecycle phase would you consider Pakistan's PR industry to be in? Why?
Mr. Zuberi: In my opinion, it is in the early stages of the growth phase, with a few professional PR companies having surfaced and doing a good job.
The profession has grown out of its media-centered profile incorporating event management, strategic decision making and marketing communications.
Yet, the profession still struggles in the public sector with outdated concepts based on prioritizing personalities.
Synergyzer: In which industries do you think PR is being used extensively? In your opinion, which other industries will soon be accepting PR as a major promotional tool?
Mr. Zuberi: The FMCG industry is well utilizing PR, with its focus on event management through programs like the Lux Style Awards.
The telecommunication sector is also leading the way in adopting new and innovative practices, while the pharmaceutical industry has been successfully employing it for many decades.
In the future, I can see PR as a strategic tool to initiate dialogue between stakeholders in the engineering industry.
The public sector, specifically the information ministry, requires strategically planned and executed PR programs, but I do not see them moving in that direction.
Synergyzer: How do you differentiate between the PR approaches of MNCs versus local companies?
Mr. Zuberi: PR approaches of MNCs are based on a properly planned strategy, while those employed by local companies are based on publicity.
Synergyzer: What is the difference between PR and Publicity?
Mr. Zuberi: Publicity is like a bull in a China shop. By relying completely on publicity to get people talking, companies may end up acting ineptly when they should be careful.
PR, on the other hand, is a planned approach to publicity.
As Phil Gomes, SVP of Digital Integration at Edelman PR said, "Anyone who says, "All press is good press", is a publicist, not a PR professional."
Synergyzer: You mentioned other marketing activities that compliment PR, like event management and marketing communications. Please give an example in which you incorporated PR with any of these tools.
Mr. Zuberi: Recently, Siemens launched the "Green City Index" around the world with the help of The Economist Intelligence Unit.
The results were announced in an impressive ceremony in Singapore.
In Asia, it compared 22 cities on 8 environmental parameters. Later, we held meetings with city officials to discuss how Siemens can help improve environmental indices of these cities.
Synergyzer: How important is it to have a PR industry in the country?
Mr. Zuberi: PR is the window of an organization to its stake holders and general public.
Also, it can play a vital role in forming and enhancing international relations and boosting the image of the country.
The term, 'soft image' for Pakistan can only be realized under a centralized PR strategy with a clear focus, which includes all stakeholders.
Synergyzer: With the growing importance of PR, what steps are required to develop PR specialists to help them serve clients and agencies?
Mr. Zuberi: I find business school students having limited knowledge about the true role of PR in an organization.
To develop professionals, such schools in Pakistan should have exclusive degree or diploma awarding programs for PR education based on international standards.
Synergyzer: Is the Pakistani PR industry guided by any effective platform?
Mr. Zuberi: There are a few members from Pakistan representing the country in International Public Relations Association (IPRA), but there is no such platform present in Pakistan.
Such platforms are important for accreditation and as forums for educated and enlightened discussion. Accreditation aids in analyzing professional competence, and prevents hit and run operators from mushrooming.
Attempts at establishing a PR association have not been successful in Pakistan since most of our organizations still have a long way to go to incorporate professionalism in management and concentrate on decentralizing hierarchies.
Synergyzer: Considering the current trends, how do you see the future of PR in Pakistan?
Mr. Zuberi: The future of PR in Pakistan depends largely upon the development of PR in the public sector, as there are tremendous opportunities for the government to use this tool.
A number of PR campaigns prompt dialogue on different issues, yet they fall on deaf ears when there is no urge for good governance.
Hence, there is a strong need for a structured approach to be followed by the authorities to create impact.
Yet, in the private sphere, PR is flourishing and focusing majorly on CSR. Therefore, most PR companies are doing well and there is a great future for the innovative and service oriented ones.
Synergyzer: Do you have any suggestions for PR professionals in Pakistan?
Mr. Zuberi: Obtain membership of IPRA and use that umbrella to benchmark local practices