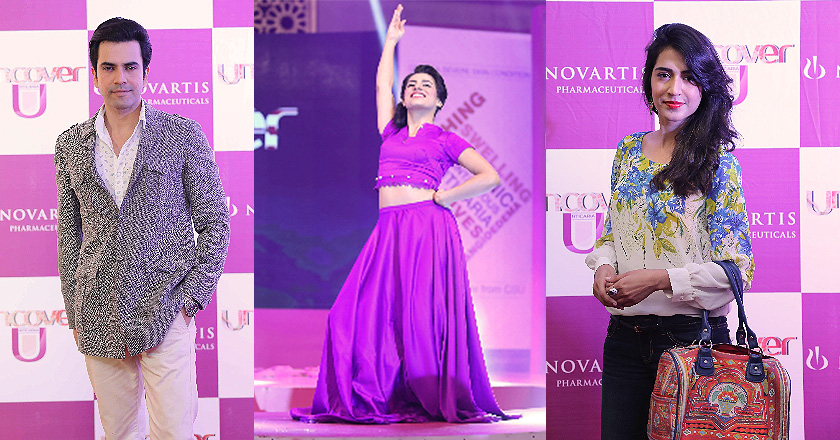 Novartis Pharma Pakistan recently organized a first-of-its-kind event 'Qissa Khuwaani – Uncover Urticaria' with skin specialists, showbiz and media notables at a local hotel.
With an objective to spread awareness about an awful skin condition known as Urticaria, the event covered live performances, ramp show, talk show, case studies, interactive discussions, etc. to help improve quality of life of the sufferers.
Urticaria (Soazish or Surkh Baadah in Urdu) – also known as hives, welts or nettle rash – is a raised, itchy rash that appears on the skin. The rash can be on just one part of the body or be spread across large areas. The affected area may change in appearance within 24 hours, and the rash will usually settle within a few days.
Urticaria is a common condition. It's estimated that around 1 in 6 people will have it at some point in their lives. Children are often affected by the condition, as well as women between 30 and 60 years of age, and people with a history of allergies. Chronic Spontaneous Urticaria (CSU) is a severe form of skin allergy prevalent in Pakistan, which may affect anyone at any time.
In order to create awareness about Urticaria, the event was divided into different segments to elaborate various aspects of a typical Urticaria patient's ordeal. Prominent TV actress, model entrepreneur and social activist Nadia Hussain led a theatrical ramp show while Joshinder Chabbria choreographed a live performance to highlight the miseries of Urticaria victims.
An interactive Q&A session all about Urticaria was also arranged in which eminent dermatologists shared their insights. The evening's finale was a great song dedicated to the Urticaria patients by Natasha Baig and Sajid Khan.
The event was well-attended by the people from different walks of life including famous film and TV artists, renowned doctors, well known social and health workers besides social organizations and media personnel. Mr. Zulfiqar Shilwani – Information Secretary Sindh and Dr. Salma Kausar – Senior Medical Director KMC participated as the guests of honour on the occasion. Mr. Shahab Rizvi – Country President Novartis welcomed the guests to the show.
Headquartered in Basel (Switzerland), Novartis has core businesses in pharmaceuticals, vaccines, consumer health, generics, eye care and animal health. The company employs nearly 115,000 people in over 140 countries worldwide to help save lives and improve the quality of life. The Group is present in Pakistan through Novartis Pakistan Limited.