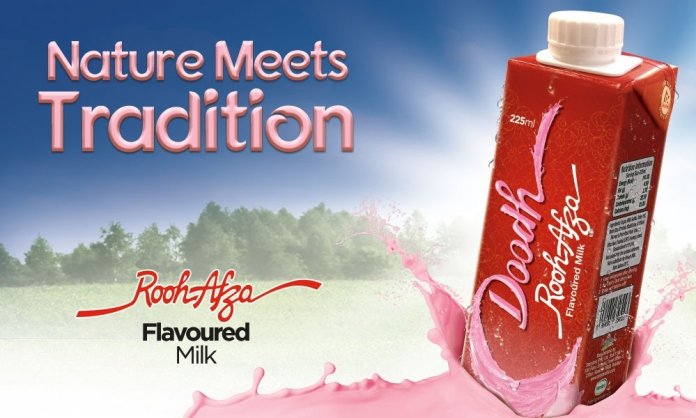 Rooh Afza, a nostalgia-tinged red syrup with the fragrance of rose, golden crown, and a long history and an unchanged taste, is a favorite drink of every Pakistani for every season across the globe. The refreshing aroma and bright rose flavor echo in our mind along with the clinking of jug being prepared for Iftaar from the transparent bottle with thick red syrup and fruity label. Be it a widespread Ramadhan dastarkhawan or a simple menu of Iftaar, Rooh Afza has always been a refreshing choice for a vast audience, be it children or elders across the borders.
Crossing borders and seas, Rooh Afza, has not only made its presence on the shelves across the world but has been talk of the town by being the first brand to reach Times Square, New York on Pakistan Resolution Day in 2018. The journey of going global didn't stop at New York as it showcased the brand along with Pakistan's flag on screens at Eton Center, Canada, and London underground stations on Independence Day, the same year.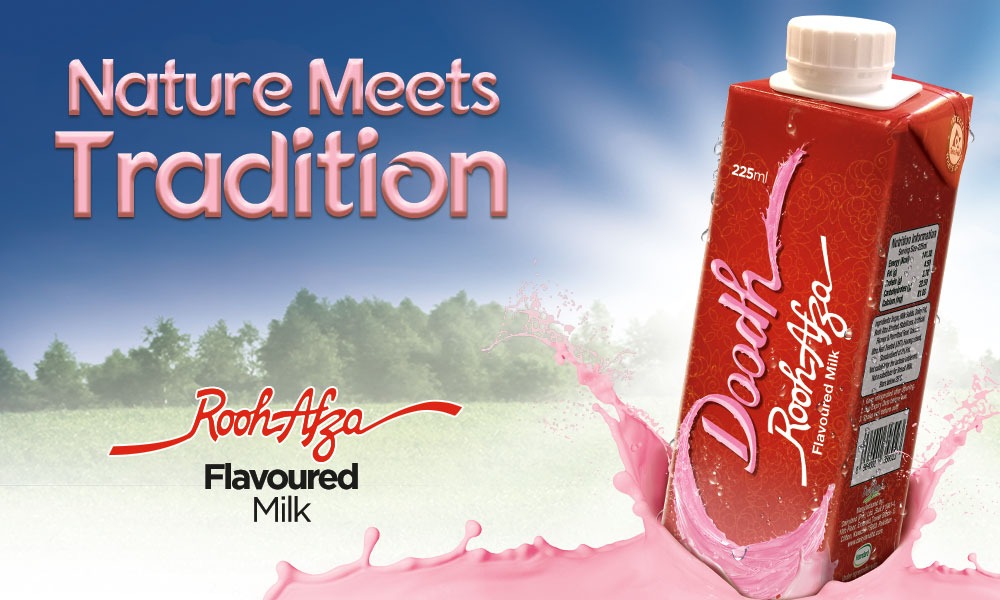 Being a revitalizing and energizing drink that connects the hearts of millions in Pakistan and 35 other countries, Rooh Afza uplifts your soul and calms your mind with its all-natural ingredients that keep you energetic, yet at peace. The drink of East staying true to its essence spread the message of peace and love during the holy month of Ramazan to families living in New Zealand by painting the towns red and lighting up Christchurch and Auckland with affectionate and warm wishes.
Rooh Afza, though a century-old brand, has always taken its chances of experimenting one way or the other. Be it the new label design, evolution in advertising, or the introduction of new by-products. Rooh Afza has stood true to its name with a refreshing, revitalizing, and all new products to captivate the generation of today! Understanding the need of matching up with fast-paced life of today's youth and making to the headlines, Rooh Afza launched its carbonated Rooh Afza Go drink last year in Ramadhan, 2019 up in the sky with the national carrier of Pakistan, PIA, serving the drink to the passengers to break their fasts.
This year, yet again, Rooh Afza has challenged its roots and brought the century-old tradition of mixing the red syrup with milk in the form of a ready to drink Doodh Rooh Afza, making its way to shelves in all-new style. Doodh Rooh Afza, in its vibrant, red, and happening packaging, is an answer to the scorching summer heat of Ramadhan, where one needs to be refreshed and energized with the first sip. It's ready to consume a drink with Rooh Afza syrup mixed with milk that has been consumed in every household for decades in Pakistan as well as globally.
Doodh Rooh Afza, with its eye-catching packaging, is an instant ready-to-consume drink that is perfect for everyone who seeks instant burst of flavors on the go. Launched during the month of Ramadhan amidst the heatwave, Doodh Rooh Afza surely is going to grab the attention of many. Launched only recently, the all tempting new Dooh Rooh Afza is available in all the major retail shops of Karachi, Lahore, and Peshawar and with its due time and acceptance of the consumers, would be available for the consumers across the county to be enjoyed wherever, whenever.
In a market that is already clouded with a wide variety of flavored milk and ready-to-consume drinks, Doodh Rooh Afza is one of its kind, having nostalgia, tradition, and the brand name of Hamdard associated to the product, it will surely stand out. Moreover, this new launch can accelerate the brand sale and recognition among the new generation- the generation which has had Rooh Afza with milk as a taste enhancer in their childhood, a chilled refreshing drink in Iftaar or plain Rooh Afza with water and lime on hot summer days, there is no stopping back.
With Rooh Afza Go launched last year and now Doodh Rooh Afza in the market, we can only wait to witness an excellent turning point for Rooh Afza with its all-new products and many more we can hope to see in future.