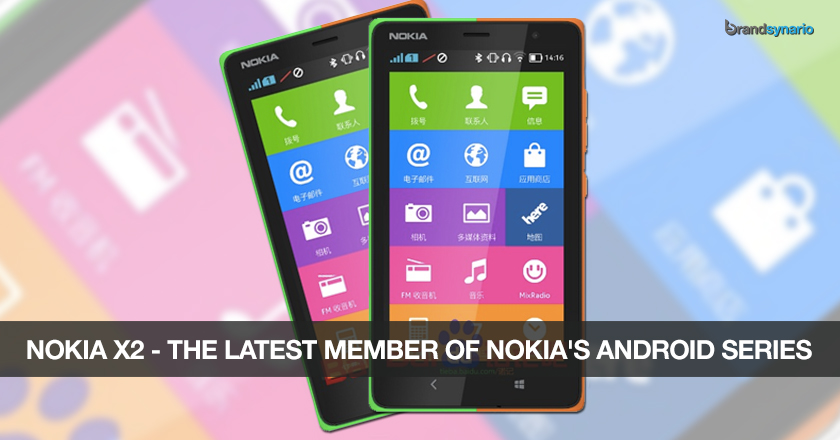 Microsoft has extended Nokia X series through the launch of Nokia X2. Revealed earlier today, the new member of Nokia's Android family is a simply a better version of Nokia X.
This April when Microsoft took over Nokia, its plan for continuing with Nokia X was unsure, until the recent launch of Nokia X2. The launch clearly depicts that Microsoft is continuing with Nokia's Brand entity for its smartphone segment.
Microsoft's very first android phone holds a 1.2 GHz dual-core Snapdragon processor along with a 4.3 inches LCD, a rear 5 MP back and a VGA front Camera supported by 1GB RAM.
Other features of the phone are almost the same as its predecessor Nokia X. While once again Microsoft has kept its android system deprived of Google's Play Store and Google Maps.
In short no Google's services if you are planning to go android through Microsoft.
A much in demand feature of Nokia X2 for emerging markets is its Dual-Sim capability along with its low tier price tag of €99.
The availability of Nokia X2 is still limited to a few countries while majority of Asia will be facilitated with its supplies quite soon.
Since Nokia's acquisition by Microsoft back in April, Nokia's absence from the market has been quite fishy.
It's clear now that Microsoft is continuing Nokia's Smartphone brand but what about the other part of Nokia? It wasn't so clear before Nokia earlier this week released its first ever Android Launcher, i.e. Z Launcher to make phones (preferably windows phones) more android friendly; a truly Epic take on Microsoft by Nokia.