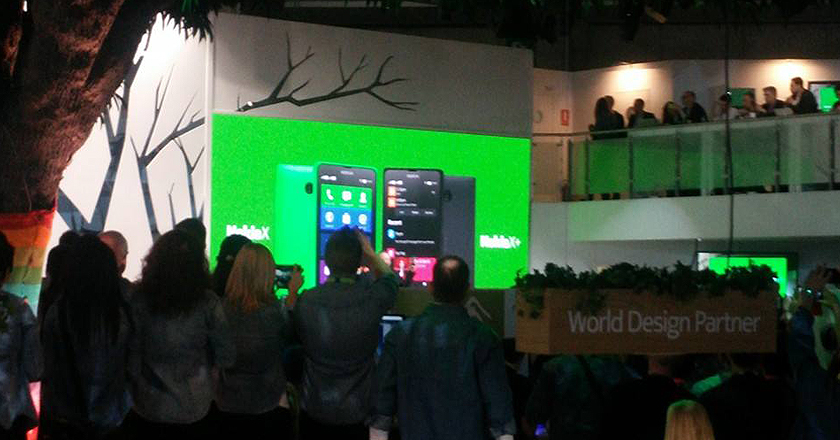 Nokia proved its commitment to connecting billions of people to Internet by launching five new affordable handsets, including Nokia X, a family of smartphones that run Android(TM) apps, Microsoft services and signature Nokia experiences. 
The Nokia X, Nokia X+ and Nokia XL are Nokia's first attempt with Google's Android software. The moderately priced smartphones are designed to capture the fast-growing affordable smartphone market and provide an on-ramp to Lumia and Microsoft services like Skype, OneDrive and outlook.com.
The first Nokia android device, the Nokia X, comes with a 4″ IPS capacitive display and 3MP camera at PKR 15,500. 
The Nokia X+, for PKR 17,350 is ideal for multimedia enthusiasts, who can enjoy even more games, music, photos and video thanks to more memory and storage. Both the Nokia X and Nokia X+ will be available in Nokia's neon bright green, bright red, cyan, yellow, black and white.
The third family member, the Nokia XL priced at PKR 19,100 boasts a 5″ display with 2MP front-facing camera – ideal for Skype video calls – and a 5MP rear-facing, autofocus camera with flash. The Nokia XL will also be available in bright green, orange, cyan, yellow, black and white. 
The entire Nokia X family is powered by the Qualcomm® Snapdragon(TM) dual core processor and supports Dual SIM, letting people switch SIM cards to get better tariffs.
The Nokia X will go on sale immediately, starting at EUR 89*** and rolling-out in Asia-Pacific, Europe, India, Latin America, the Middle East and Africa. The Nokia X+ and Nokia XL are expected to roll out in these markets starting early second quarter, priced at EUR 99 and EUR 109, respectively.
Stephen Elop, executive vice president of Nokia's Devices & Services, commented on the launches:
"Nokia has connected billions of people around the world, and today we demonstrated how our portfolio is designed to connect the next billion people to great experiences." 
"Our deliberate approach is to offer four tiers of products including our affordable entry-level devices like the new Nokia 220; our entry-level Asha touch phones like the new Nokia Asha 230; our new Nokia X, Nokia X+ and Nokia XL smartphones primarily for growth economies; and our Lumia portfolio, which is where we introduce the greatest innovation and provide full compatibility with the Microsoft experience," he added.
The Nokia X family features Nokia's renowned handset quality and design, with a fresh, tile-based user interface inspired by our Lumia family.