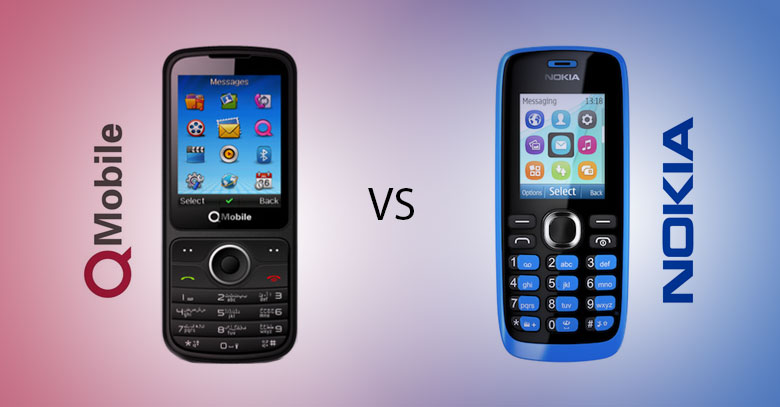 Nokia has to face another challenger in its lower price category, this time it is a Pakistani brand, Q mobile. Nokia, once a market leader in mobile phones category, never expected such a steep competition.
Its first competitor was IPhone which triggered the explosion of Smartphones, and then it was Samsung who took up the challenge. After which everyone seemed too busy choosing between iOS and Google App store that they didn't look back at the once market leader, Nokia.
Nokia did come back with Microsoft Windows 8 equipped range of LUMIA phone in their artillery to go head to head with Samsung and iPhone in the high-end smartphone category. Q-mobile joined, or should I say crashed, the party with its 'flashy' advertisements and competitive pricing.
If one can get a five-inch screen, the latest android operating system and many other features in Rs20,000 then why spend Rs60,000 on it? And that too in a country where phones don't last long, either due to ever-changing preferences or robberies.
So Q-mobile is busy spreading its footprint in Pakistan while Nokia plans to blind the audience with its neon-shade phone, be it the Lumia series or Asha series.
Let's have look at the two struggling yet adamant mobile phone companies in terms of their market penetration and marketing activities.
Market penetration
In lower end phones, commonly known as "Bar Phones", Nokia had maintained its monopoly since it was and still is positioned as a durable and familiar phone in the mind of the consumer.
Then came Q Mobile, a Karachi-based company whose founder was previously a renowned importer, assembler and distributor of LG products in Pakistan.
It would not be fair to compare the two companies, since Q mobile does not manufacture its devices rather it imports the technology and merely assembles it. It is very seldom that devices are imported, branded and then sold in Pakistan. Hence the same device, imported from China, is sold under the name of Micromax in India.
Q mobile first made its mark in lower-end phones, disturbing the schema of the Nokia-using population, and has penetrated deeply into the market with its more-for-less strategy.
Contrary to common perception, China also makes some of the best devices in the world. In fact China has world's largest manufacturing capacity. Q Mobile made sure to have imported good quality devices which they can sell at lower prices in price sensitive market, this flanked Nokia's lower end Bar and QWERTY phones.
After making its reputation in the market as a reliable name Q mobile entered the Smart phone industry with expensive-looking advertisements. With the launch of A500, A600 and now Quad Core A950 Q Mobile has substantiated its name as the favorite brand for people with low budget but high desires.
So Q-mobile has becoming the fastest growing brand in Pakistan but Nokia undoubtedly has the first-mover advantage and people, especially in rural areas, still prefer their good old sturdy Nokia phones.
Marketing activities
You have one look at the billboards and an ad slot of any television and you realize the effort both the companies are putting in promotional activities.
Q-mobile may have won the race locally, with its advertisements featuring stars such as Fawad Khan and Aditya Roy Kapoor, but Nokia Lumia's global (attacking) ad campaigns have impressed many.
Nokia Asha series' promotional activities are going neck-to-neck with Q-mobile and might even have an edge due to their presence on various streets and roundabouts. Branding islands, billboards on busy roads of metropolitan cities like Karachi have increased brand recall.
Nokia Asha has also started voicing its many features and the colorful bodies add an extra appeal to the phone.
In all, Finnish mobile phone company Nokia and China-based Q-mobile have announced that they won't be deterred by the fancy android and iOS phones and will continue to strive for their share.