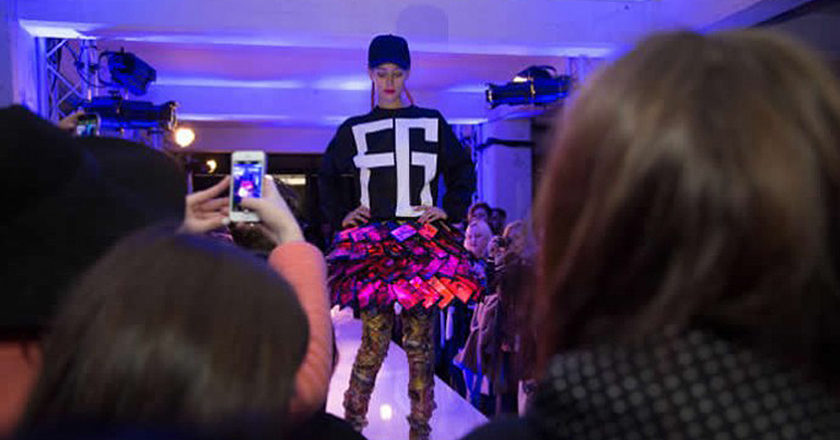 By Zoya Anwer
We all are familiar with unique clothes that light up by electricity. We have even seen attires made of meat but never did we hear about ladies walking on the ramp in dresses made up phones, did we?
Fashion designers recently came up with dresses that were made up of 80 Nokia Lumia 1520 and Lumia 1020 at London Fashion Week.
The creative brains behind the idea belonged to the designer, Fyodor Golan and the agency, Kin.
The skirt, worn with a whacky shirt and a cap resembles somewhat a tutu, which is normally worn by girls who do ballet, except the fact that it obviously is not for dancing.
The devices are placed diagonally in a pattern on top of each other to create a circular effect. The phones also show live feeds as well as still pictures and change the colors too, as the skirt ruffles like any other clothing article.
The designers explained that, "The dress is built using movement and tile effect."
It took good three months to come up with the finished product and one specific app was created to cater to the techniques used in the creation.
Laser cutting and 3D printing technology has been used and while it might seem like a fashion article, intricate engineering was involved in its making.
According to statements in Nokia Conversations, "KIN employed a combination of sketched drawings, 3D-printing, and Phython and C# programming languages to build the skirt."
This innovative skirt was presented at London Fashion Week and the chances of its availability in markets are quite thin. Many were astonished after witnessing the creativity involved in this skirt.
The skirt uses a purpose-built app that uses GPS to track the wearer's movement, the phones either display a static image or use a live feed to create a realistic shimmer effect.
The thigh-length skirt features layers of the Nokia handset laid on top of each other in a zigzag pattern, and it's not clear how smooth the shimmer or simulation will be given all the overlaps.
The skirt also connects wirelessly to a hidden camera in the wearers hat. And thus the skirt can project what the model is seeing in real time, which is also a neat trick. We're just not sure how practical this outfit would be in real life. Don't even think about sitting down.
The designer, Fyodor Golan might return with some even more unique ideas as he plans to work with Nokia in the coming year for spring/summer shows
For now after smart watches, Google Glasses, people might even be found wearing dresses made right out of their very tech accessories.