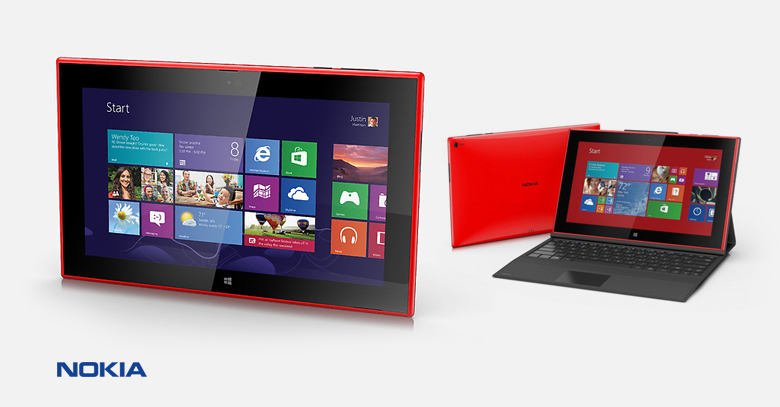 Nokia Lumia Tablet 2520
The popularly known Sirius, with the official name Lumia 2520, is Nokia's first ever modern tablet.
Earlier this month a few leaked pictures appeared on the Internet which showed the first ever tablet made by Nokia. The Tablet looked somewhat like a Lumia-smartphone, of course slightly larger but with similar flamboyant colors, and was codenamed Sirius.
The Lumia 2520 is a Windows RT tablet that's designed to be as usable as possible in bright sunlight, and comes with the option of a keyboard/battery pack cover.
However, the most significant feature of the tablet remains to be its 10.1 inched screen that supports a brightness level of 650 nits (in contrast to iPad's 394 nits) that promises to uphold Nokia's tout of its tablet being most readable even in the brightest of sunlight.
Full Features and Specifications of Lumia 2520 Tablets
Aside from what has already been specified the tablet runs on a quad-core Qualcomm Snapdragon 800 chipset, supports 4G, and has a 6.7-megapixel rear-facing camera that's equipped with Zeiss optics, as well as a 2-megapixel front-facing camera.
It can also charge up to 80 percent capacity in one hour. Icing on the top is a "Power Keyboard" accessory that acts as an extra 5-hour battery, 2-port USB hub, and tablet cover – shades of Microsoft's new Power Cover there.
So, how much does the tablet Nokia Lumia 2520 costs? The tablet alone is expected to have a price tag of USD 499 that equals at around PKR 53,118. The power keyboard would cost an additional USD 149 or PKR 15,858.
The tablet also features Nokia's Here Maps that works offline.
Nokia Lumia 1520
The all waited, all acclaimed and the Smartphone with perhaps the most amount of leaked Images, Nokia 1520 is finally here. Nokia's new flagship Smartphone introduces a 20 megapixel camera with full HD 1080p resolution.
Nokia had to up its game from the benchmark of renowned Lumia 1020. Therefore Lumia 1520 promises in every way to meet all the expectations with its 6-inched screen.
Full Features and Specifications of Nokia Lumia 1520
Nokia Lumia 1520 is the latest shiny bright addition to Nokia's Lumia legacy. Marking to become the company's first major Smartphone after its acquisition.
Lumia 1520 has a 6-inch display screen that is equipped with a full HD display of 1080p, again optimized for outdoor usage. Its 20 mega pixel PureView camera is a superior technology than its ancestors. The device accommodates 4 microphones for an enriched experience of watching videos and listening songs.
What is particularly investing in the 6 incher is the new layout in its Windows Firmware – that shows three columns of apps. Lumia 1520 is going to be the first hardware to have the alteration from Windows.
What's more, Nokia is even starting to bundle its updates with Microsoft's official Windows Phone updates. A lot of the features in the new 6-inch Lumias will come to earlier Nokia Windows Phone 8 devices tied in with a new Windows Phone update early next year, in a unified update dubbed "Lumia Black."
The new Lumia further includes Beamer, a feature that makes it possible for the phone to project its screen on any HTML 5enabled-screen.
In a nutshell, Nokia Lumia 1520 and Tablet 2520 are intended to set the benchmark for the future to come from Microsoft acquired Nokia.