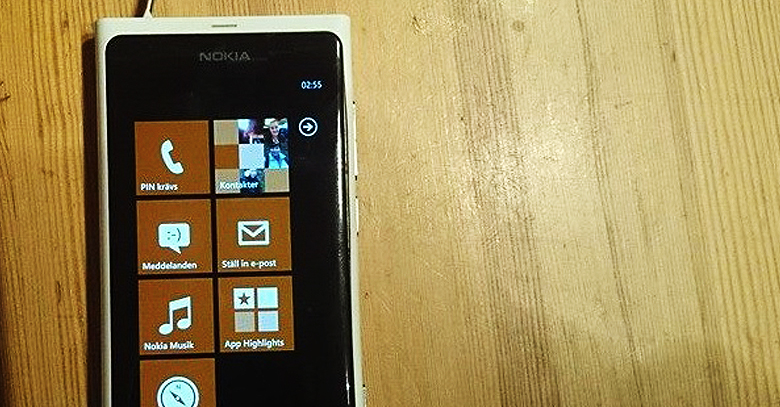 How many times has your Nokia phone went tumbling down the stairs and survived the crash? Or fallen in a pool of water and was found working flawless? All of our Nokia phones have gone through ruthless punishments uncountable times but still proved to be as sturdy as a rock. 
For more than half a century, the Finnish mobile phones have managed to wow the world with their exceptional manufacturing. Consequently, no one can now doubt the strength and durability of Nokia phones as they are considered legendary for their remarkable built and robust structure.
The most recent case of the Nokia's indestructibility was reported in Sweden when a Lumia 800 perished a swim in the lake and emerged as a champ three and half months later.
The sunken Lumia 800 belonged to Anna whose friend found it submerged 2 meters down in Sweden's deepest Lake Ivosjon. Wedged between rocks and covered in waste, her friend identified her phone while snorkeling and rescued it out of the water.
Any device that is not water resistant simply can not endure a plunge in the water, let alone for 90 days. But Nokia left everyone speechless when it booted up after being cleaned, fixed, dried and recharged.
"Everything works just like before, the camera is great, and battery life is two days and so on. Much can be said however, that quality makes the Nokia!" Robert Nilson, who resurrected the phone, commented on Nokia Sweden's Facebook Page.
Where competitors like Samsung and Sony, working to make their products impervious to water and dust, Nokia not even being water resilient won over all.
All Nokia Lumia phones are safeguarded via poly carbonate exterior and gorilla glass screen. Both the materials provide extra protection to the device, preventing it from all harm and breakage.
Undoubtedly, the excellent craftsmanship from the Finnish manufacturers has made Nokia handsets unique for being invincible and indestructible. Share your stories of survival for your Nokia phones.