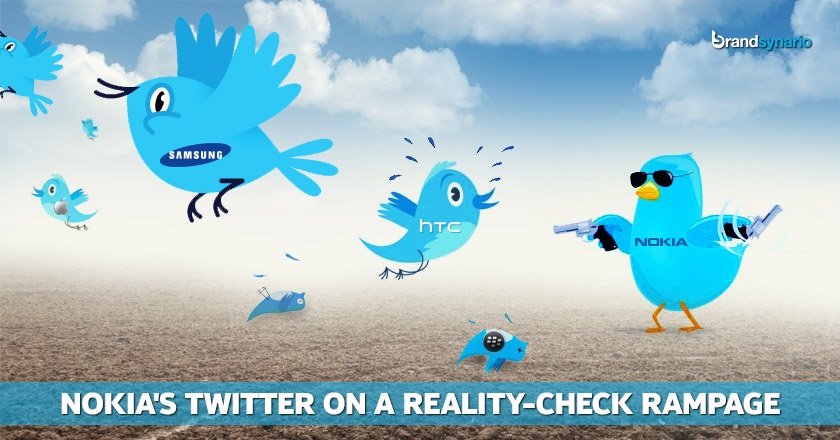 By Zulfiqar Ali Sajwani
If there is an industry that can be used as a flagship symbol of 'dynamism', it is definitely the smartphone industry.
Nokia is probably the only smartphone brand that uses the emerging power of social media platform to stay on top of  competitors. Nokia's Twitter jabbing is a clear example of how Nokia loves to taunt its competitors as soon as they announce their arrival.
The most recent example of this virtual habit of Nokia is the tweet that they aired to sneer HTC one (M8). It was just a matter of around fifteen minutes after the revelation of this hyped phone that Nokia came up with a tweet giving HTC a smack in its face.
The Finnish company used the launch to direct the HTC movers and shakers towards one of its prestigious events.
HTC is not the only brand that has been the victim of Nokia's mischief. You name the brand and it has suffered the killing taunts of the Microsoft acquired company. Following are the few examples:
1. Apple
We all anticipated the arrival of Apple iPhone 5S and 5C However, Nokia had entirely different reasons to be excited about iPhone's launch. How Nokia  played on the plasticity' of iPhone 5C and the color 'gold' of iPhone 5S, to make ironic statements is worth-mentioning here.
Clearly, Nokia continued its legacy of showing Apple dooms day. When the video, that showed the lack of creativity of Apple in terms of only two colors for iPhone 5, got aired; we thought this was just a marketing gimmick. However, with what they continued with iPhone 5S and 5C, it seems every entry by Apple has to taste Nokia's Twitter bashing.
2. Samsung
The Samsung Galaxy S series is acclaimed for its ever evolving sophistication and compatibility with each new model stepping into the market. However, the trolls by Nokia Twitter team step in here and make us realize what Samsung does is nothing but repetition.
The way they troll Samsung's name, calling it 'Samesung' is not just hilarious but it also leaves an impact in the market. Nokia loves to jab Samsung and it seems that the cash-cow series of Samsung smartphones shall remain threatened by Nokia till eternity.
3. Blackberry
We all know that this brand is living its final days and we deeply believe that we should let this brand enjoy a peaceful death. But it seems Nokia's twitter jabbing would not spare this brand too.
When the Blackberry UK team tweeted "If you don't know who's got one, you don't know the right people.", Nokia could not handle someone else taking the position of reigning the social media trolling. Within a span oftwenty four hours they responded, "You don't know who's got one because everyone has made the #SwitchToLumia."
What could the poor Blackberry boys say to it. They surrendered to the Nokia trolling warriors.
Call it Nokia's spontaneity or lack of sportsmanship, there is one thing that none of us can deny. Nokia's Twitter team does have, or at least attempts to have a reasonable sense of humor.
Anyhow we as consumers definitely enjoy Nokia's Twitter jabbing at other competitors. After all, it's a fair game and may the best brand win.