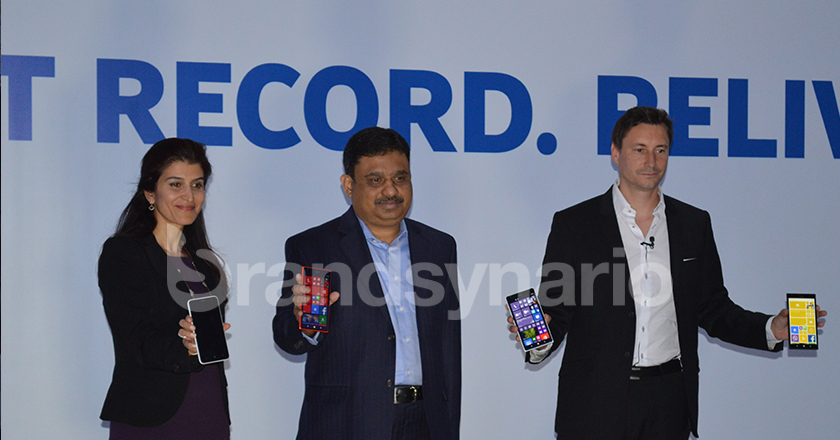 After much anticipation, Nokia Pakistan announced the launch of Nokia Lumia 1520 and Lumia 1320, two of Nokia's 6' inch large display flagship smartphones.
The event, held today at Taj Marquee, Movinpick hotel Karachi also announced the launch of Pakistan's first travel based show, Kuch Kar Dikha.
With Kuch Kar Dikha, Nokia Pakistan aims to take its fans on a mesmerizing trip to witness the unseen scenic beauty of Pakistan. The show is a travelogue that revolves around the journey of a group of youngsters belonging to different walks of life to savor the scenic beauty of Pakistan.
The show takes its viewers across landmarks which offer a rich mixture of culture and history and terrains where no one has travelled before.
As for Nokia Lumia's flagship products, Lumia 1520 offers a 6-inch screen and operates on a 2.2GHz quad-core Snapdragon 800 processor, the processor is said to be the strongest in the world. Lumia 1520 is equipped with a 20MP PureView Camera with dual LED flash, Zeiss optics and optical image stabilization. It also sports a front-facing 2MP HD camera.
The phone/tablet has a 1080p display and has 2GB RAM with the internal storage of 32GB, offers a microSD cards for additional storage and free cloud storage of 7GB. 1520 is powered by 3,400mAh battery with built-in wireless charging facility.
Speaking on the occasion, Arif Shafique, Country General Manger Nokia Pakistan said, "Nokia Pakistan believes in bringing innovative devices in fun filled exciting packages. This time around, we have truly taken innovation and excitement to another level. We are introducing Nokia Lumia 1520 and Nokia Lumia 1320, which are used to capture moments of Travel Show 'Kuch Kar Dikha'. This is our way of introducing our devices in a unique mixture of adventure and thrill.
With the novel blend of devices and a travelogue, Nokia Pakistan made this launch the most memorable one.
Here are a few images from the event: