Nishat Linen's much awaited and profoundly exquisite Winter Collection 2015-2016 has been launched and is indeed quite promising. It's that time of the year when we love curling up near a cozy bonfire in comfortable yet trendy winter outfits with an ensemble of dark color palettes.
Nishat Fabrics has always been associated with panache, exquisite designs and strikingly beautiful colors and Nishat Linen's Winter Collection'15, is no different. With a chic yet tasteful blend of patterns and winter shades, the collection offers hues of elegant designs at an affordable price range.
The trendy and chic patterns display the elegance that the Nishat brand holds.
Read more: Armeena Rana Khan Stars in Nishat Linen Winter Collection 2015 TVC
The fabric used by Nishat Linen is khaddar and linen while the color palettes include hues of darker shades such as purple, turquoise, maroon, orange, red, black, sea green, light pink, brown and dark blues etc.
Prices for the Nishat Linen Winter Collection 2015-2016 vary from PKR 2,200 to PKR 4,000.
The designs include single shirt pieces to be donned with your favorite pair of tights and a pretty shawl along with 3 piece suits with digital prints as well as embellishments. Let's have a look at the Nishat Linen Winter Collection 2015-2016 for Pret & Unstitched Designs (Winter Collection '15 NISHA) below;
Winter Collection '15 Pret
Winter Collection '15 NISHA
The tagline "Live the elegance of Nishat Linen's world" has been associated with an advertisement promoting a promising Winter Collection for 2015.
The assemblage for Nishat Winter Collection 2015-2016 has been donned rather exquisitely by the stunning starlet, Armeena Rana Khan, in the TVC that is sweeping our television screens. Watch the commercial below;
[fb_embed_post href="https://www.facebook.com/NishatLinenOfficial/videos/10153690948337438//" width="550″/]
Armeena Rana Khan has also graced the cover of the 112th issue of Paperazzi Magazine wearing one of the most strikingly gorgeous prints from the Winter Collection'15. Have a look at the magazine cover below;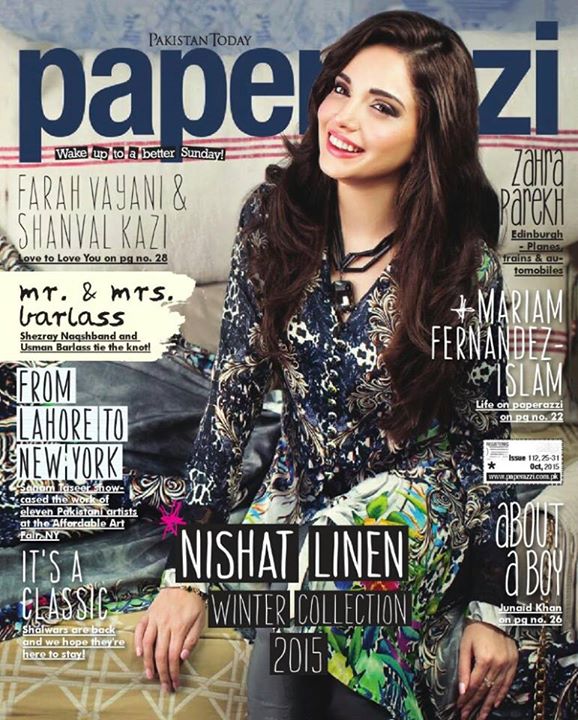 The brand has always been slightly ahead than other major brands, and this time too, Nishat Linen Winter Collection 2015-2016 was launched on October 10th 2015, way before other major brands.
So hurry up, visit your nearest Nishat Linen outlet and redefine your winter wardrobe with NL's Winter Collection to elevate your style status this season.
You can visit the website here to make online purchases.
Read more: Nishat Linen Eid Collection 2015
Stay tuned to Brandsynario for more updates!