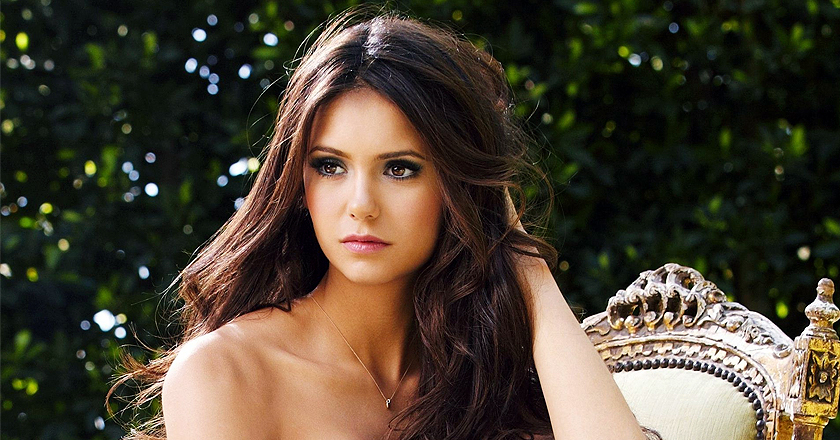 You read it right. The doppelganger hottie, Nina Dobrev is leaving The Vampire Diaries for good.
While TVD has been given a green signal for the seventh season, Nina has announced the current season 6 to be her last. The actress has proven her mettle by performing a number of different characters in the show and how well so!
Be it the sweet Elena, the evil Katherine, the conniving Tatia or the passionate Amara, Nina Dobrev has played all the roles perfectly, switching seamlessly from one to the other. Her excellent performance and her chemistry with the lead heroes, Stefan and Damon, has created a huge fan base, all of whom are devastated at her Instagram farewell announcement.
"I was a human, a vampire, a doppelganger, a crazy immortal, a doppelganger pretending to be human, a human pretending to be a doppelganger. I got kidnapped, killed, resurrected, tortured, cursed, body-snatched, was dead and undead, and there's still so much more to come before the season finale in May."
"Elena fell in love not once, but twice, with two epic soulmates, and I myself made some of the best friends I'll ever know and built an extended family I will love forever."
Soon after her announcement, the mastermind behind TVD, Julie Plec confirmed the news all the while letting fans know that the show will go on. Many other characters in the six years long series have come and gone, however, Nina is first of the lead cast to leave, who will closely be followed by Michael Trevino.
See how Twitteratis reacted to the news of Nina Dobrev leaving The Vampire Diaries:
So nina just officially announced she's leaving TVD at the end of the series and I'm straight up crying no joke pic.twitter.com/DgAqHsq3qk

— gabriela (@gabyybarbosaa) April 7, 2015
NINA CAN'T BE LEAVING THE VAMPIRE DIARIES THIS IS ZAYN LEAVING 2.0 THIS CAN'T BE HAPPENING TO ME

— fiona (@uanticket) April 6, 2015
Can't believe this is happening! I will forever miss u Elena! #WeWillMissYouNina @ninadobrev ???? pic.twitter.com/bSxblLsOfv

— vvendelacapdevilaa (@ccapdevilaa) April 7, 2015
TVD will end this season for me, I won't watch season 7 without Nina aka the main character of the show #WeWillMissYouNina

— Estelle (@EstelleHastings) April 7, 2015
Okay I've jus woke up with the news that @ninadobrev is leaving @cwtvd please tell me I'm still dreaming! ???? #WeWillMissYouNina

— #WeWillMissYouNina (@licad2) April 7, 2015
So sad Nina Dobrev is leaving TVD after this season. I guess I will just have to rewatch the older seasons now. Tear. #WeWillMissYouNina

— Hope Ellis (@HopeDEllis) April 7, 2015
Why confirm season 7 when there's gonna be no Nina?!? There's just no point in life anymore ?????????? #WeWillMissYouNina ????????

— TVD is over (@TVD_delena1) April 7, 2015
"Promise me this is forever" "I promise" Forever isn't as long as we thought. #WeWillMissYouNina #CancelTVD

— Abi•Goodbye Elena (@abi_vans) April 7, 2015
#WeWillMissYouNina me RN seriously please don't pic.twitter.com/21Kmfc7sjC

— ? (@BieberDelCarter) April 7, 2015
Turning of my humanity now #WeWillMissYouNina thx for everything you've done @ninadobrev love u till the end of time pic.twitter.com/rgtQNk30Yz

— S (@Saarah_Official) April 7, 2015
Some of the fans are so disappointed at losing their favorite actress, they have resorted to the #CancelTVD trend.
Two queens taken for granted. Katherine (@ninadobrev) and Rebekah (@claireholt) are gone. Took the ratings with them too! #CANCELTVD

— ??? (@ElijahsKaterina) April 7, 2015
TVD died a loong time ago. I only stayed in the loop hoping that one day Katherine would return but now that Nina is leaving.. #CANCELTVD

— ??? (@ElijahsKaterina) April 7, 2015
Do they actually think they can continue TVD without Nina Dobrev? I hope not lol #CancelTVD

— kacie (@kacieellegood) April 7, 2015
#CancelTVD You ruined the best couple #NotStelenaNotTVD pic.twitter.com/364wKLQbD3

— Stelena Forever (@stefan_diares) October 10, 2014