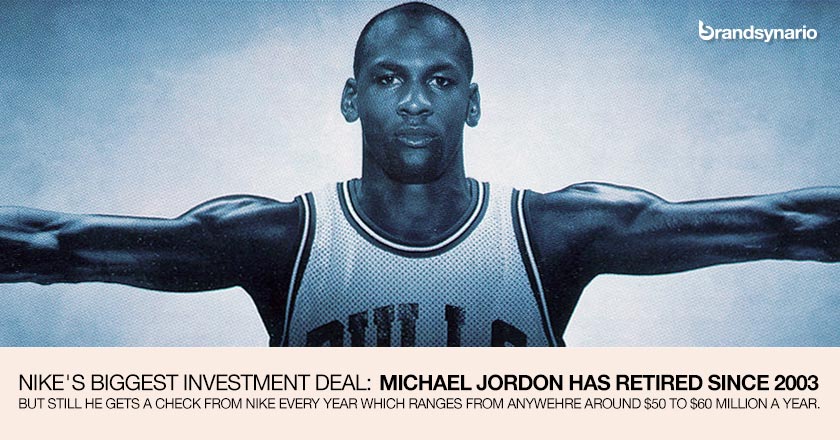 By Zoya Anwer
The famous American brand Nike is the largest sports brand in the globe with a standing of $49 billion, an amount more than twice of their archrival German brand, Adidas.
Over the years, the brand has evolved by signing up some of the biggest sports celebrities. It took up the great Micheal Jordon 30 years back for $500,000 per annum and that deal is still considered to be amongst the biggest endorsement deals ever made.  
Here are the top ten deals signed between these sports celebs and Nike.
1. Michael Jordon: $60 Million
The biggest Basketball star, Micheal Jordon stands tall with the biggest Nike endorsement deal. Even though he is retired, the Basketball star receives around $50 to $60 million every year. As of 2013, Micheal Jordan was also able to scoop $80 million collectively from Nike, Gatorade, Upper Deck, 2K Sports and last but not the leastHanes.
2. Tiger Woods: $20 Million
Tiger Woods, the Number 1 Golf player got his first Nike deal when he started as player back in 1996. He got himself a 5 year contract for $40 million. After instant success, his deal was later extended to $20 million each year. 
3. Rafael Nadal: $10 Million
The young and energetic Tennis star, Rafael Nadal got a deal with Nike worth $10 Million for ten years which makes amounts to $100 million in total.  The 11 grand titles winner rightly stands on number 3 for this part.
4. Rory Mcllroy: $10 Million
The former number One Irish Golfer is also said to have signed a 10 year long deal worth $250 Million or $100 million for 5 years which makes it a win-win deal for him anyway.
5. Derek Jeter: $10 Million
The Yankees player, Derek Jetter got himself a ten year deal with Nike in 2008 earning $10 million each year. 
6. LeBron James: $10 Million
Also called King James, the American Basketball player believes that he doesn't get the payment that he deserves but contrary to his beliefs, the gold-medalist does make a lot of money as he scored himself a seven year deal in 2004 with Nike worth $93 million going up to $10 million each year later on.
7. Roger Federer: $10 Million
Roger Federer, the magnificent Swedish Tennis player and the winner of 17 grand slams has a lot under his belt in terms of endorsements from various brands and earns around $40 million feach year. The player gets $10 million every year from Nike which is a ten year deal.
8. Maria Sharapova: $8.75 Million
The very stunning and professional Russian Tennis star, Maria Sharapova stands as the only female in this list who gets $8.75 million a year from Nike, which is almost the double of what her closest opponent, Serena William gets.
9. Kobe Bryant: $8 Million
With his own personalized 8s Nike shoes, the basketball player, Kobe Bryant has a five year deal with Nike for $40 Million. He was previously associated with Adidas till 2003. 
10. Christiano Ronaldo: $8 Million
The footballer with the highest payment from endorsements, Real Madrid's Christiano Ronaldo gets $8 million a year from his deal with Nike. The star recently received the Ballon d'Or award beating his famous rival, Lionel Messi.