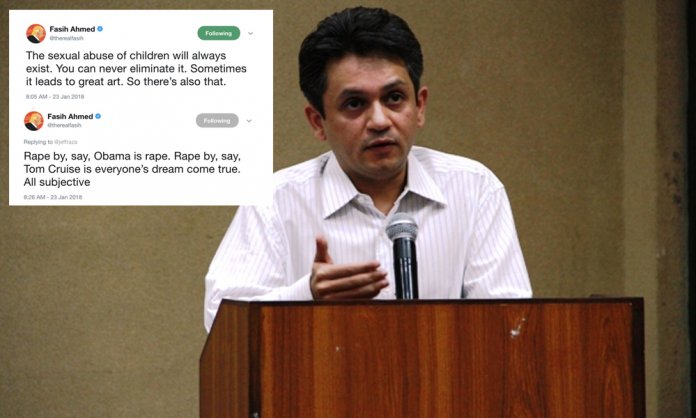 The barbaric murder of Kasur's seven-year-old Zainab has shown us that it is about time we take strong measures in addressing and punishing perpetrators of child sexual abuse and molestation.
In such horrific times, we need intellectual minds to unite and ponder upon ways to deal with the grave matter.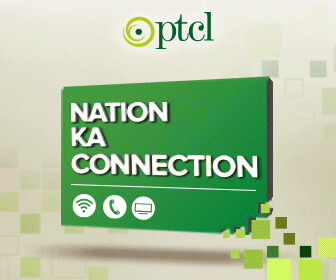 However, some recent tweets by Newsweek Pakistan's editor Fasih Ahmed has resulted in a ferocious outcry, making us question our society's literal minds.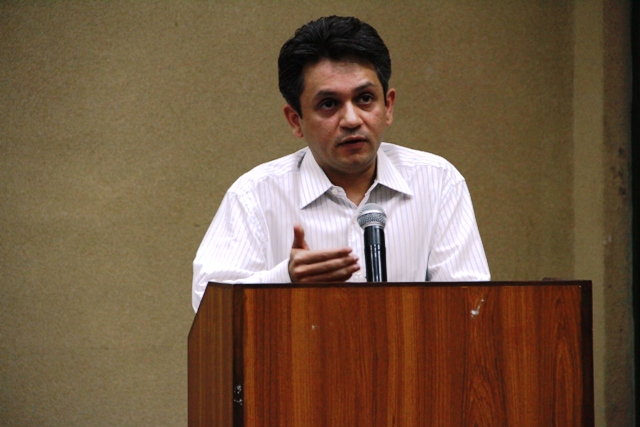 The editor of the renowned publication boldly claimed that child molestation leads to great art i.e. child pornography.
The sexual abuse of children will always exist. You can never eliminate it. Sometimes it leads to great art. So there's also that.

— Fasih Ahmed (@therealfasih) January 23, 2018
Pedophilia will always exist. In two weeks no one will even give a shit about it

— Fasih Ahmed (@therealfasih) January 23, 2018
The journalist remarked that sexual violence against children will always exist, regardless of innumerable campaigns against it. 
Child sexual abuse has always happened, is happening, and will always continue. Two days of outrage on Twitter and participating in a 10-person vigil may make you feel so noble but that's all just about you, not those who've been victimized

— Fasih Ahmed (@therealfasih) January 23, 2018
:-). Maybe you don't get it. You implied that rapist being a straight guy in some way makes the whole episode less tragic. And you were trying to be funny, perhaps. Bad.

— Jafar Raza (@jeffraza) January 23, 2018
The shocking nature of his tweets made people think that his Twitter account has been hacked.
You know uncles, servants, teachers, cousins, random shopkeepers hurt boys and girls. Did you report them? Did you have the balls to step out of your denial? This is the cause du jour. Default mode denial is just around the corner. Zainab is not a watershed moment

— Fasih Ahmed (@therealfasih) January 23, 2018
But Fasih made it clear that all of them were his own statements
My account has not been hacked. Relax

— Fasih Ahmed (@therealfasih) January 23, 2018
His Twitter tirade is receiving massive backlash and people are enraged on his frivolous comment about something so serious.
Hey @Newsweek, the editor of your Pakistani edition is turning rape into a joke. https://t.co/0yAbUBS4lv

— Faizan. 🏳️‍🌈 (@merabichrayaar) January 23, 2018
When you view Sexual Assault as art, you are turning someone's worst nightmare into something that can be consumed for your mental stimulation or entertainment. You are turning a survivor/victim into an object instead of a human. pic.twitter.com/TQnYfkgIs3

— Sara Muzzammil (@SaraMuzzammil) January 24, 2018
I finally get why the word "liberal" receives so much hate in Pakistan, i mean when the torchbearers are ppl like Fasih Ahmed & his translators, u are bound to be considered scum & nothing else.

— Rehan Ulhaq (@Rehan_ulhaq) January 24, 2018
It's been more than 5 hours since Fasih Ahmed has been tweeting garbage and attacking everyone who disagrees with him. I doubt his account has been hacked. Let's stop making excuses and justifying his behavior.

— Maham Ali (@Mahamali05) January 23, 2018
Jeremy McLellan, a renowned US based comedian also slammed Newsweek's Editor for making vile jokes about child rape 
To make matters worse, Fasih Ahmed also misbehaved with a speaker, Egyptian-American writer Mona Eltahawy of Lahore Literature Festival (LLF), of which he was a board member.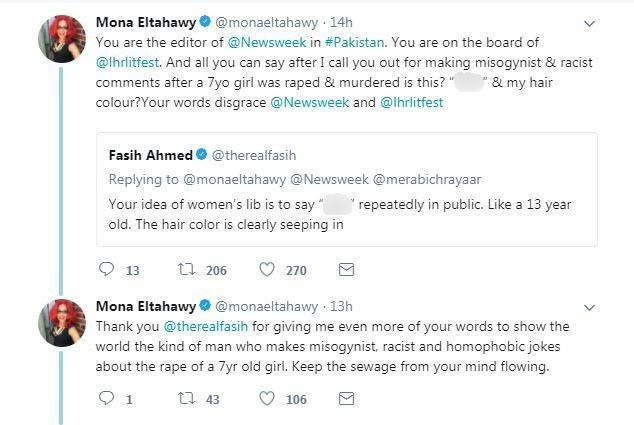 Now, after the social media brouhaha,  (LLF) has declared that they have parted ways with Fasih and hold no responsibility for his personal views.
The Lahore Literary Festival (LLF) has received several complaints pertaining to the tweets on January 23, 2018 from the personal twitter handle of Mr Fasih Ahmed. This account and its tweets do not in any way represent or reflect the ethos or values of the LLF.>>>

— LLF (@lhrlitfest) January 24, 2018
But the matter went out of hand when popular Hollywood actor and singer, Alyssa Milano came across his outrageous tweets and urged Newsweek to take action against the editor of Newsweek Pakistan.
Here's what she tweeted!
Hey, @Newsweek. Me again. Just flagging the below tweet for you coming from a guy who says he works for you. https://t.co/Hd0Mfj2fGN

— Alyssa Milano (@Alyssa_Milano) January 24, 2018
Instantly, Newsweek rolled out a notification to disassociate itself with the views presented by Fasih Ahmed
Recent tweets by Newsweek Pakistan editor @therealfasih do not represent the views of @Newsweek. We are reviewing our relationship with @NewsweekPak, which operates under a license agreement.

— Newsweek (@Newsweek) January 24, 2018
Now a petition has been created on change.org against Fasih Ahmed and demands the immediate removal of Newsweek Pakistan.
What do you think about Fasih Ahmed's tweets? Lets us know in the comments below.