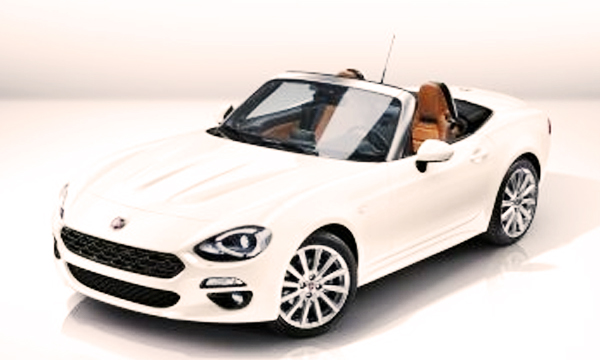 Almost 50 years after Fiat took the wraps off the original two-seat drop-top roadster, the brand has come to the La Auto Show to unveil its spiritual successor.
The original Pininfarina-designed Fiat Spider was such a phenomenon when it launched in 1966 that it stayed in production in some shape or form right up until 1985. And nowhere was it a bigger hit than in the US where 170,000 examples of its 200,000-unit run were sold.
Therefore, it's little surprise that LA is the venue for the unveiling of an all-new Fiat 124 Spider and one that's been built in partnership with Mazda.
Read more: Volkswagen to Set Foot in Automobile Industry in Pakistan
The last time that an Italian carmaker decided to team up with a Japanese counterpart, the result was a disaster. When Alfa Romeo announced it was developing a car with Nissan in 1980, the world rejoiced at the promise of something with Italian styling and grace but underpinned by Japanese solidity and reliability.
However, the Alfa Romeo Arna, launched in 1983 disappointed. It sported an exterior designed by Nissan underpinned by the questionable electronics and mechanical components that plagued Alfa's reputation at the time.
Thankfully, the new Fiat 124 Spider does everything right. It has a decidedly Italian look that references the original 60s Spider.
The interior is more luxurious and fitting of a roadster too with different seats and higher quality materials as standard. And the engine, a 1.4-liter MultiAir Turbo engine, also from Fiat, is the sort of small, lightweight high-revving unit that one would expect in such a car.
Read more: Toyota to Launch Talking Cars – The Crown and The Prius
Fiat is yet to confirm performance figures but expect them to be on a par or greater than those of the Miata thanks to the use of lighter, stronger aluminum and composite body panels plus the fact that its rev-happy engine can output 140hp and 240Nm of torque.
However, the Spider keeps the Miata's best elements — weight distribution, limited slip differential and suspension set-up, including double wishbones at the front — for crisp and precise handling. And to ensure that the 124 has its own personality, some of this crispness has been increased further so that it will feel like the car's begging to be thrown into a bend.
And while the Fiat 124 Spider is not expected to go on sale until the summer of 2016, there are already whispers that a hotter, Abarth-tuned version is in development.
Read more: Classic Allure: Karachi's Best Vintage Cars at 12th Annual Vintage Car Show
Stay tuned to Brandsynario for more updates!