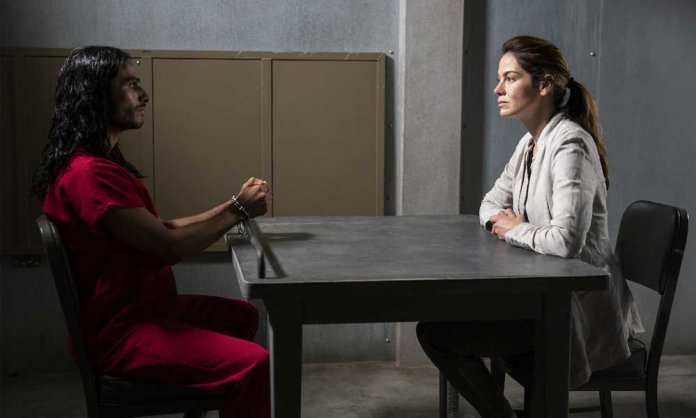 Twisty suspense thriller TV shows are boosted by binge-ready streaming services. Gone are the days of impatiently waiting for resolved cliffhangers and plot twists that you forgot during the weeklong break.
Instead, you can plow through the deliciously dark plotting as fast as your remote finger can let you, making for an exquisite home entertainment experience.
The popular streaming platform Netflix will soon release an American thriller 'Messiah', which has already created hype with its trailer as people have been believing that the story is based on 'Dajjal.'
Dajjal became a top Twitter trend in Pakistan On Thursday as more and more people began discussing the trailer. Netflix released the trailer on Tuesday. Season 1 of the show will hit the streaming site on January 1, 2020.
The trailer of the series shows how a young lad suddenly appeared on the lands of Syria and claims to be sent by God. He is also shown to have the ability to perform miracles.
The trailer has created a social media rumble in Pakistan as people have mixed views on the storyline and the name of the series.
Check the series of tweets that caused Dajjal to be the top trend on Thursday.
Will he convert you … or con you? @MessiahNetflix premieres January 1 pic.twitter.com/WhRAURLYtF

— Netflix US (@netflix) December 3, 2019
Twitter Reaction 
Isn't this alarming #Dajjal is trending worldwide, Ya Allah please save my Imaan.

— Tams. (@reemsays_) December 4, 2019
What are your thoughts on this?
Netflix releasing series about #Dajjal
When this is so obvious with the point of Islam that Dajjal will come on predecided time which no one knows except Allah.
And as a Muslim we should stick on our Faith.
Why everyone is getting scared just bcz of series?

— SHEIKHNI💚🇵🇰 (@oyesheikhni) December 4, 2019
Some people believed that we are programmed to be this way
We are literally being programmed through a Netflix series. Manipulating our minds for when Dajjal actually arrives, we will accept it as a norm as we would have "seen it before". This is called predictive Programmin.#Dajjal

— Abdullah Saeed (@habdullahsaeed) December 4, 2019
Others made a little joke out of the situation!
i dont know why people are so scared about that movie;#dajjal
that is just a movie and nothing more.

— Navid Tanoli (@navid_tanoli) December 4, 2019
Is it really? We think not!
Coincidence ? 🙂🙂🙂#Dajjal pic.twitter.com/QNhFuuLdut

— Dawood 🌻 (@Dawooodmdm) December 4, 2019
So, are you all unsubscribing to Netflix or will sit back and enjoy the show?
Tech lover #Dajjal is coming your way through Netflix. If you are a Muslim, it is part of your emaan to answer through tech – unsubscribe Netflix, delete the app and shut him inside.

— Sameena E. (@SameenaERana) December 4, 2019
End of times?
Since "Dajjal" is trending due to you-know-what, I hope to see many informative, intellectual and of course authentic Islamic threads regarding Dajjal and the End of Times. We are truly in the End of Times.

— Jee (@Jeejay7) December 4, 2019
Some users really dug deep into this scenario
The "A" in messiah reflects illuminati. #Dajjal pic.twitter.com/Fl8e5JUsgq

— Armaan Khan (@ArmaanK44835662) December 5, 2019
Plot of Messiah
Produced by Michael Petroni. The trailer was released on December 3, 2019, which shows Mehdi Dehbi playing the lead role. In the trailer, he seems to be Hazrat Issa but he is actually shown in the series as 'Dajjal' who is trying to trick the people to follow him.
The first season of the series will start streaming on Netflix on January 1, 2020, and will consist of ten episodes. The story will be told from different perspectives. It will be told from the perspective of a young CIA agent, a Latino preacher and his Texan daughter, a Palestinian refugee, an Israeli Shin Bet officer, and the media.
Conclusion
Islamic prophecy has stated some of the signs of Dajjal that he will pretend to be someone else, will have only one eye, and will have the word "Kaafir" (disbelievers) written on his forehead, and will be able to make the dead alive.
Dajjal will be the largest fitna in history. He is basically a 'false Messiah' who will come and represent the calm before Armageddon. It has been told in Islam that he will be followed by 70,000 Jews and Hazrat Isa (AS) will kill Dajjal.
Let us know what you all think of this.