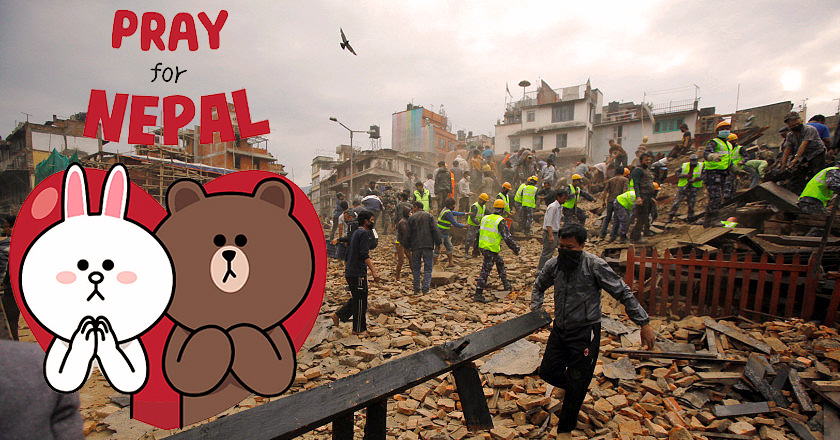 A 7.8 magnitude earthquake struck central Nepal on April 25, 2015, resulting in widespread destruction across the capital of Kathmandu to regions beyond. LINE would like to extend its deepest sympathies and prayers to the victims of this disaster and their loved ones.
To share our support, LINE has released a set of charity stickers "Pray for Nepal" around the world. All proceeds from the sticker sales, after deducting service charges, will be donated to the Japanese Red Cross Society's relief fund for the 2015 Nepal earthquake. The fund will be used for relief activities in the affected areas of Nepal.
"Pray for Nepal" stickers will be available for purchase from today until May 31 through the in-app Sticker Shop and LINE STORE (https://store.line.me) for USD 0.99 or 50 LINE Coins.
LINE Charity Sticker Details
Name: Pray for Nepal
Sale Price: USD 0.99 globally (50 LINE Coins)
Sale Period: April 28 to May 31, 2015 (Subject to change)
Sale Region: Global
Party Receiving Donations: Japanese Red Cross Society
Past Results of LINE Charity Stickers
1) Typhoon Haiyan Relief Stickers "Pray for the Philippines"
Sale Period: November 15 to December 31, 2013
Party Receiving Donations: Philippine Red Cross
Total Donation: JPY 58,773,190
2) Tohoku Earthquake and Rehabilitation Stickers "3.11 Children Stickers"
Sale Period: March 11 to September 10, 2014
Party Receiving Donations: Save the Children Japan
Total Donation: JPY 27,892,900