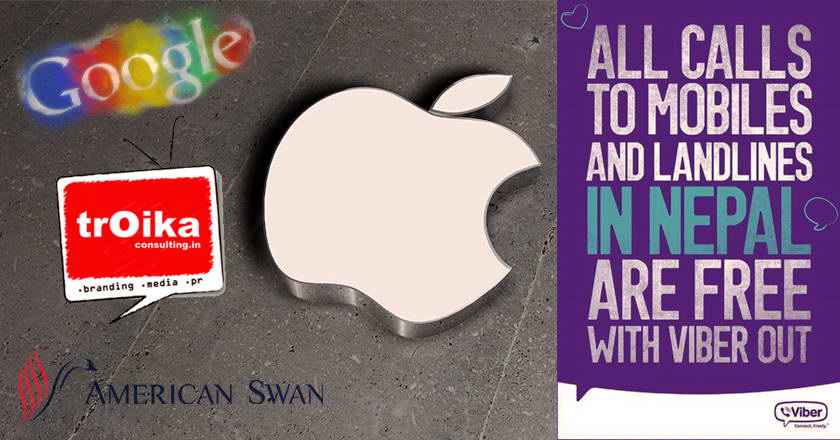 As soon as the devastating earthquake hit parts of Nepal, killing more than 3000 people, making several thousand homeless, different brands have stepped up in a bid to help the affected by not only offering a variety of different services for them, but to also raise funds for the injured and the homeless.
Google:
Google immediately set up a Google Crisis Response tool that helped people locate their family and friends while Facebook brought in a 'Safety Check'  that helps track the safety of a person's loved ones.
Viber:
Viber enabled users to make free calls to Nepalese mobile and land line numbers using its Viber Out service. Indian mobile network Airtel allowed its users to make free calls to Nepal for two days, while Vodafone, BSNL, MTS, MTNL enabled users to call Nepal for as low as Rs. 1 per minute.
Please spread the word so that we can help anyone trying to contact loved ones in Nepal #NepalEarthquake

Posted by Viber on Sunday, 26 April 2015
Humanitarian Open Street Map Team (HOT):
The Humanitarian Open Street Map Team (HOT) has also been providing online maps to assist rescue teams navigate amidst the massive amounts of rubble and debris.
HOT is actively responding to the #NepalEarthquake by updating base maps. Full info and how to help map at http://t.co/6Bp9NpyCB9

— HOTOSM (@hotosm) April 25, 2015
Apple:
CEO of Tech giants Apple, Tim Cook, has started raising funds for the American Red Cross via the much popular iTunes, in the App Store, with people having the option of donating in between $5 to $200.
Air India, Indigo & Spicejet:
Indian airlines, Air India, Indigo, and Spicejet have offered to send out relief material for free to Kathmandu, the capital city of Nepal, which will be sent out to the neighboring country in the supervision of the Indian Army.
#Quake #Update AI will carry relief material on priority basis, free of charge on its flts to KTM ex DEL & CCU to help quake-affected.

— Air India (@airindiain) April 25, 2015
Accredited NGOs / relief orgs please send email to earthquakerelief@spicejet.com to arrange for free transportation of relief, doctors (2/2)

— SpiceJet (@flyspicejet) April 26, 2015

Amidst all the positive efforts, some brands have taken some highly inappropriate measures to market their products and services.
Troika Consulting:
Indian social media agency, Troika Consulting, sent out a tweet which stated: 'If you were busy updating your status as you evacuated the building, we might have a job for you in our social media team'. Needless to say, the tweet was soon removed.
American Swan:
American Swan, a fashion apparel brand, made an inappropriate reference to the tragedy, sending out a promotional message to one of their 'earth-shattering' offer. The brand was forced to apologize soon after.
In the aftermath of such a tragedy, every organization vows to play its part to help the affected victims, and it remains to be seen which brands further come up with the goods to help our brothers and sisters in need.
Read More:  See how celebrities all over the world reacted to Nepal Earthquake