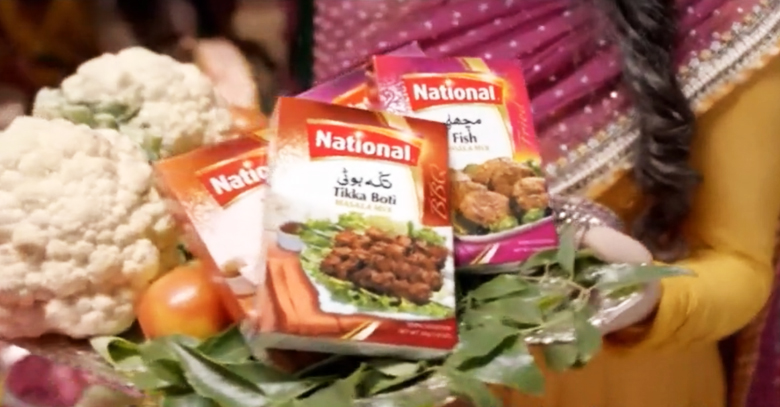 Celebrating the season of sacrifice, late night Bar-b-ques and delicious meaty cuisine, National Foods has launched their new ad campaign 'Humaray Khanay Humara Pyaar' for National Spices.
The teaser launched earlier by National Foods about the television commercial successfully raised the curiosity level of the public and the advertising world.
National followed a sure shot hit formula for 'Humaray Khanay Humara Pyaar' campaign this time.
Beginning with the traditional wedding celebration topped perfectly with a remake of the famous wedding song by Musarrat Nazir named 'Chitta Kukarh Baneyre Te', followed by all dolled-up giggling desi girls and mouth-watering shots of food and ending at light-hearted teasing between bride and groom; National successfully managed to mesmerize its audience with the much tired and tested technique.
The TVC is the production of 'The Vision Factory' and directed by Asim Raza with Citrus talent, from the agency IAL Saatchi & Saatchi. The character of groom is played to the perfection by Zindagi Gulzar Hai famed actor Shehreyar Siddiqui.
Critics have started to compare this recent venture by national Foods by its previous pioneering campaign, of 'National Ketchup Zaroori', remarking upon the lack of imagination from the company this time round.
However, National Foods have gained a good few points on some of its arch rivals like Shaan Foods. Nonetheless, the over usage of the concept adopted by National Foods does give out an inappropriate brand recall of some of the more famous brands who have used wedding and songs in their television commercials more aptly, like Cadbury or Olpers.
What do you think of National Foods campaign?