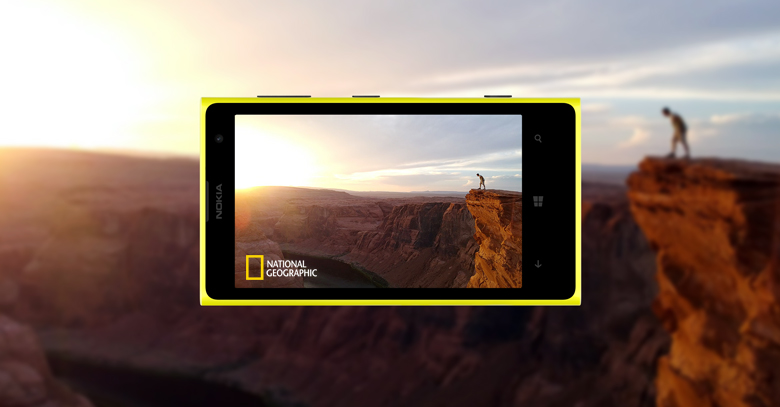 What happens when America's favorite real life satellite television, National Geographic goes deep in the American Wild West equipped only with the best camera smartphone produced till date?
National Geographic's award winning photographer Stephen Alvarez tackled a ten-day assignment to capture the natural exquisiteness and the staggering sights of the iconic American 'Wild' West from Spring Valley in Arizona to Maob, Utah – armed only with Nokia Lumia 1020.
The Route

Experiencing Nokia Lumia 1020
As the journey commenced, Alvarez couldn't believe that carrying this smartphone would add to his passion of capturing moments from the eyes of his personal collection of impeccable camera-lenses. But since it was a ten-day trip, and lured in by the adventure,  he realized what he thought was an ordinary Smartphone, actually surprised him with photos that closely matched that of his expensive 'real' gadget.
While capturing breathtaking shots with Nokia Lumia 1020 Alvarez remarked, "What the Nokia Lumia 1020 does astounds me. Getting these results from a smartphone, at magazine resolution, is stunning. I've used a lot of smartphones, so when I set out on this assignment I had my doubts. My doubts are gone. There's never been anything even remotely like it."
Alvarez further commended the Nokia Lumia 1020 on Nat Geo's official website by stating that while on assignments previously, he had only used his smartphone for research, emailing, and navigation, and had never really considered using one as a camera to shoot assignment photos.
"Smartphones produce images that look OK on the phone screen but fall apart if they get any bigger. So if a good picture was happening and I only had my phone I'd be kicking myself for not carrying a "real" camera. The 1020 is a real camera, it just also happens to make phone calls." Stephen Alvarez Nat Geo
Low Light Image Shots
Nokia 1020 is proficient in some serious resolution images with extreme saturations. The 1020's low light performance is somewhat comparable with an expensive DSLR. Also, the screen viewing angle is an innovation in itself, solving one of the prime issues smartphone users didn't even know they had, holding the camera high over one's head to shoot a picture that would compose on the screen.
On his visit to the iconic horseshoe bend of the Colorado River in Arizona, Alvarez said: "Boaters were camped all the way down on the slickrock, and in my pictures you can count their sleeping bags even though they were 800 feet below me." He continued: "Nokia Lumia 1020's zoom and low light capability just blows me away," describing his visit to the Slickrock Trail in Utah where he took pictures of mountain bikers before dawn, the details it records are staggering for a smartphone."
Alvarez defines the ease in technicality for photo enthusiasts, by saying that "I found I was using the full manual controls most when the camera was on a tripod. Then I could really dial down and control the way the image looked."
With his faith strengthened in the quality output from the Lumia camera,  he then compares the Smartphone's camera with expensive high-end DSLRs saying, "The controls were very intuitive. On the fly I'd set the EV to -.3 or -.7 and just shoot away. The lens seems to be well matched with the sensor. Low light performance is exceptional for a camera phone. The bright f 2.2 aperture really lets a lot of light in."