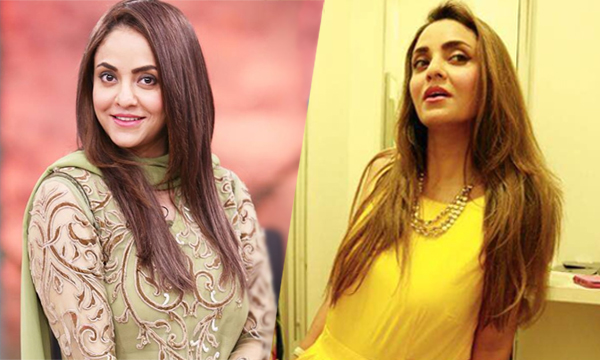 The Queen of Morning shows, also known as the Oprah Winfrey of Pakistan, Nadia Khan has been MIA for the past year or so and has not been seen on Pakistani TV channels for a long time.
Recently a few pictures of the actress turned tv show host's pictures have been surfacing over the internet creating a buzz. Her unbelievable transformation has shocked people, gone is the cute, slightly chubby and bubbly diva. She has now totally changed into a sizzling beauty!
Meet the New Nadia Khan who looks way younger than her age!
Nadia started off her career in 1996 with a drama and then caught fame as she started her morning show on Geo TV. She quickly became a fan favorite due to her lively and cheerful persona.
Doesn't she look half her age? The diva has lost a lot of weight and can give any supermodel a run for their money!
Khan absolutely stuns with her gold flowy hair here!
Khan has been hanging out with model/actress, Madiha Iftikhar as they are launching a new web-based business called Out Style that will be launched soon. The duo is active on their Facebook page doing and has already shot a few v-logs based in Dubai.
Here's the dynamic duo of Nadia and Madiha in action!
The actress turned host has been spotted hanging out with various Pakistani celebs such as Junaid Khan and Zahid Ahmad. Is she hinting towards another comeback?
Nadia Khan with Junaid Khan looks like they are on a shoot for some secret project
The 'Geo Pakistan' star was spotted with Zahid Ahmed!
She's definitely rocking this uber-chic look!
The sheartress has her fans wondering whether she will be back to rock the television screens this Ramadan. We'll have to wait and watch to find out!
Watch the trailer for the upcoming vlogs, OutStyle here!
What did you think of Nadia's new look? Let us know in the comments below.
Stay tuned to Brandsynario for latest news and updates.