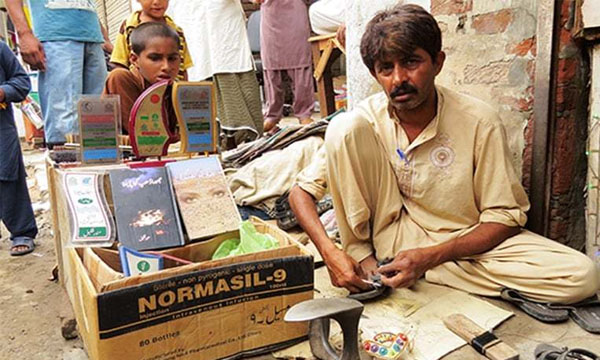 On the outskirts of Faisalabad in the district of Jaranwala; sits a Punjabi shoe smith outside the corner of a dingy shop at Rodala Road.
Who knew that the skillful shoe maker working all day long by mending ragged, soiled shoes of villagers since past 30 years has a soul of a poet and owns five poetry books to his name!
Meet the unsung poet of Punjab, Munawwar Shakeel who makes end meet by repairing footwear. Ironically, it's not his shoe-mending skills that draws hoards of people to his small shop. But it is his art of poetic verses that inspires people and urges them to pay the upraised poet a visit.
Drenched in reality and unleashing the bitter truth of life, the poetic tales of the 46-year old Munawwar have earned him high respect and now he is regarded as the right interpreter of realism in the suburban areas of the city.
When his father departed from the world, he was thirteen years of age and had to withdraw himself from studies. Thus, he took over the family shoe-making business to feed his family.
Despite having no proper schooling, Munawwar managed to publish his first book "Soch Samandar" of poetic verses back in 2004.
Never looking back since then, Shakeel began his spree of writing poems and publishing them into books. His second book "Pardesh Di Sangat" came out a year later in 2005.
In 2009, his third book "Sadiyaan Di Bhait" made it to the market while the fourth one "Jhora Dhup Gawachi Da" was published in 2011.
His latest book is "Ankhaan Mitti Hogyaan" which he published in 2013.
The upcoming book "Tanghaan" will be comprised of 12 ballads and will be published in the upcoming year.
What's more, all of his works published till date are award-winning books.
A member of Royal Literary Academy of Jaranwala, Sandal Bar, Pakistan's Writer Guild and Punjabi Literary Sewak, Munawaar holds many victorious titles and awards for his notable work.
Harboring a pain for humanity, Munawwar aims to be the voice of the poor and needy. While he shies away from quoting of romantic tales of beauty and love verses in his poems, his poems speak volumes about the woes of the deprived and anguish of the common man.
Undoubtedly, Munawwar has emerged as an exemplary figure for not only his fellows but for the whole of Pakistan. Despite of low resources, the mediocre shoe smith did not choose to stay behind, but used his talent to rise high and become extraordinary from the rest!