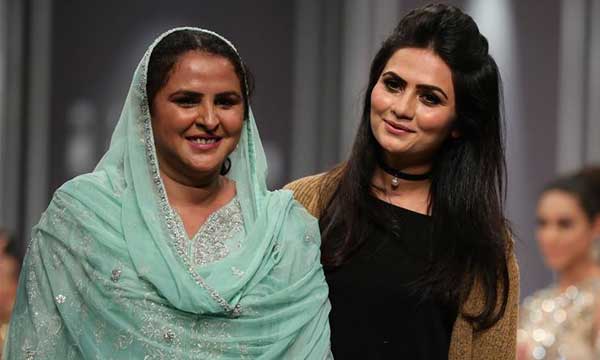 The survivor of gang-rape, Mukhtaran Mai is  Pakistan's most popular advocate for rights of women. Lately, she stole the limelight as she walked the ramp for Rozina Munib at Fashion Pakistan Week 2016.
Mukhatran Mai made headlines in 2002 when she survived the incident. She was in the news  all over again, however, this time to raise awareness of issues that negatively affect the women in our society.
Watch her video from FPW here.
Mukhatran spoke to the media about her reasons for her walk down the runway stating, "I am walking the ramp to spread awareness about the struggles women goes through. This is for the women in my society, it is for those who have no one and no place to go to."
Rozina Munib had been told by many that this could result in serious backlash but she is adamant on having Mukhatran showcase her pieces.
The designer stated that "The purpose of bringing Mukhtaran Mai to Karachi and making her a part of my show is to tell her story so that it gives courage to other women."
"I could have easily gone down the typical route of paying a celebrity to be part of my show. I just felt that it would be so much better to spend the same money on a cause that was close to my heart", Rozina Munib added.
In 2006, Mukhatran founded the 'Mukhatran Mai's Women's Shelter Home' for those women who urgently need a new living situation, either for their protection from domestic violence or just as a safe haven.
The shelter can be found in her hometown, Meerwala, and it provides all basic necessities including food, clothing, and more for the comfort of the residents. The shelter also provides legal aid, long-term care, medical and psychological treatments for those who have been affected.
"All that I do, I do it for my children (at the shelter) and women. This is for them. I can't do this alone hence I found an anchor in the media to help spread my message", said Mukhtar Mai.
Walking down the ramp, with as much courage and strength that Mukhatran Mai possesses, it breaks all the taboos that our society has built against many affected women with cases similar to hers.
http://www.brandsynario.com/fpw-2016-popular-celebrity-showstoppers-walk-ramp/
Stay tuned to Brandsynario for more updates!