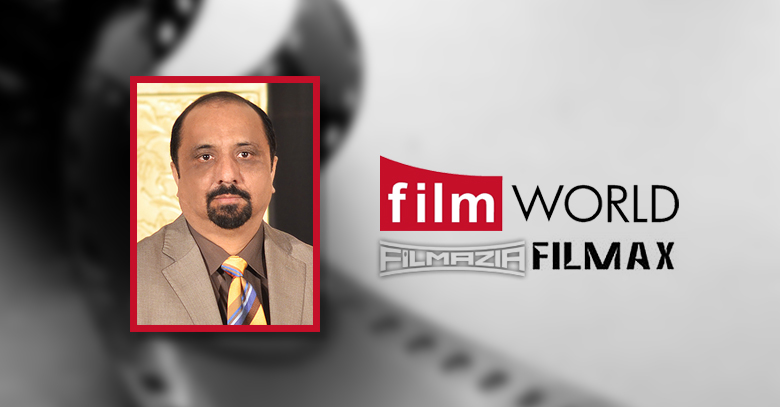 By Synergyzer
Muhammad Abid, Director & C.E.O – Leo Communications (Pvt.) Ltd., talks about the company's television channels; Filmazia, Filmax and FilmWorld; and how they are promoting movies in Pakistan.
Q1:  How many years have you spent in the TV channel distribution industry in Pakistan?
Muhammad Abid: Almost 23 years!
I was born in Lahore, Pakistan. Movies were always my passion and my way of learning about the world. I started LEO Communications (Pvt.) Ltd. with my elder brothers back in 1990. The idea behind the company was to bring international satellite channels to Pakistan, since the only option available back then were a few terrestrial channels. This was our initial venture and later on we decided to bring out channels for the mass audience in Pakistan. Thus, Filmazia, Filmax and FilmWorld were launched.
Q2: Tell us about Filmazia, Filmax and FilmWorld; and the target market each caters to.
Abid: FILMAZIA was launched in 2004 to air Lollywood movies, only, and we have invested in a large collection of Pakistani cinema hits. The channel caters to B, C and D socio-economic classes and the viewers are located in urban, semi-urban and rural areas. Currently, Filmazia has more than 80% viewership nationwide, which is due to our strategically planned out segments.
FILMAX airs premium Hollywood movie content dubbed in Urdu, which is a blend of all genres. The movies are copyrighted and offer a unique opportunity to advertisers as it is viewed in urban areas of Pakistan, famous amongst all age groups and caters to SEC A, B and C.
FILMWORLD delivers a quality mix of Bollywood blockbusters 24/7. With access to one of the largest Bollywood film libraries, the channel offers a wide variety of films, including the latest premieres. It is watched by all age groups amongst SEC A, B, C and D.
Q3: Why did you feel the need to create three separate TV channels that cater to Lollywood, Bollywood and Hollywood movies when the content could have been condensed into one such channel?
Abid: We did not want to confuse our audience or the advertising community towards our channel programming, hence kept the diversified Lollywood, Bollywood and Hollywood content onto three different channels.
Also, there is a huge vacuum present in our electronic media industry as news and entertainment (drama-oriented) channels are launched time and again without any focus on movie entertainment. We decided to address this by launching our channels.
Q4: Do unlicensed cable channels affect your viewership and business?
 Abid: No, they don't, since such channels are not allowed to collect any airtime revenue off advertisements. Also, multinational advertisers do not advertise over these channels due to legality issues.
Q5: How do you compete with unlicensed cable channels?
Abid: I strongly believe that viewers have matured and prefer quality over quantity. We have given them a better choice through our channels and they are gradually evolving out of watching and listening to cluttered screens and sound that lacks quality.
Some differences that make us stand out are
• Legal Content
• High Definition Screen Quality
• Crystal Clear Sound Quality
• Minimum Repetitions
• Branding Opportunities for Advertisers
• Content Integration Opportunities
• Content Customization
• In House Programming
• Vast reach and penetration since our channels are available for cable and dish users across Pakistan
Q6: How do you promote your channels, considering the clutter present due to unlicensed cable movie channels?
Abid: That is a very important question.
Our content is unique and we select it according to the Pakistani audience's flavor and habits. We have no competition so far as there are no other channels showing Lollywood, Bollywood and dubbed Hollywood movies for kids, youngsters and grownups.
Earlier I mentioned that we have our expertise in distributing international channels across Pakistan, hence it is not difficult for us to get our channels highlighted: We have an experienced and dedicated distribution team that makes sure our channels are tuned in the first 30 frequencies to get maximum eyeballs. Also, we use cross-channel promotions within our own group and with our media partners.
Q7: Last, but not the least, leave us with something inspirational.
Abid: "Work hard, content is king and don't accept no, ever!"