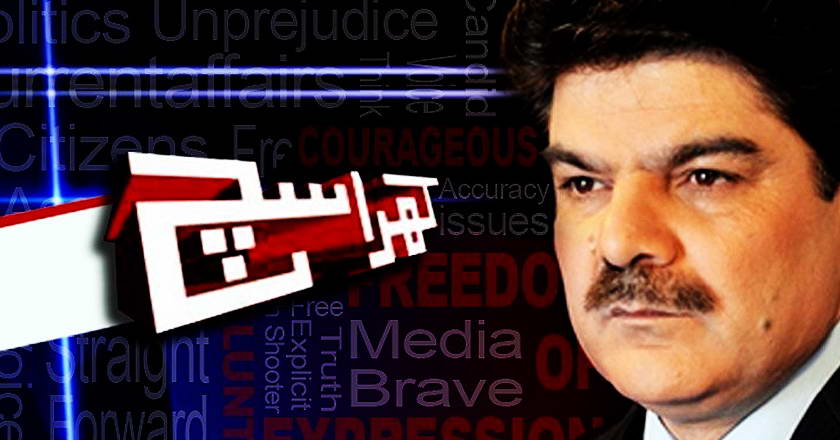 Mubashir Luqman is no newbie when it comes to controversies; just Google the phrase "Mubashir Luqman controversy" and you will find numerous hits.
The latest accusations by Mr. Luqman were made in his show "Khara Sach" on Feb 4th, 2015 at the rating systems of Pakistani TV shows.
The episode titled, 'Rating Ka Jin' was particularly targeted towards the relatively new entertainment channel "Urdu 1", the research giant "Gallup Pakistan" and "Kantar Media", an international research group from UK.
According to Mr. Luqman, "It (Urdu 1) was launched here as a new foreign channel that was to bring foreign shows dubbed in Urdu but there is no evidence that it's a foreign channel."
"It does not exist anywhere else but in Pakistan." he further claimed.
In his show, the senior talk show host went as far as to say that Urdu 1 is run by an Indian group that was previously not allowed access to the Pakistani audience by the authorities; the group has found its way in our media through this loophole.
And that's not all. Luqman bashed Gallup, saying that the company is not more than a two man army that works on old computers.
Watch the first part of the episode here:
He also said that there is no proof of Gallup's operations as they had no filled or un-filled surveys to show them.
Luqman raised an important question pertaining to TV media ratings. He said, "Shouldn't the Target Rating Point (TRP) be regulated? What is PEMRA doing in this regard?"
Luqman also highlighted the lack of trust among Pakistanis in their own media channels. Giving a significant example of Gen. Zia-ul-Haq's plane crash, he said, "At approximately 4:00- 4:15 Radio Pakistan Multan broke the incident's news to the whole world and the people got to know it from Radio Pakistan. But at 8:15, all of Pakistan was tuned in to BBC, which was itself quoting Radio Pakistan when detailing the incident. Pakistanis have a trust deficit on our own media  and on our own medium."
According to Luqman, there are about 30 fake accounts on Facebook and Twitter, operating in his own name. Among those accounts, there is even one that has 350k (350,000) followers and is preaching out loud.
Part 2 Mubashir lucman challenge to TV Rating… by mediatrackpk