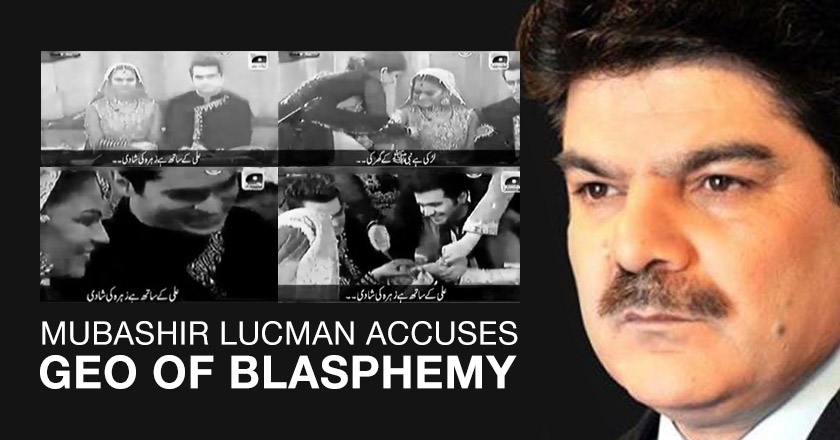 Geo Network is under the line of fire for not just one but many controversies these days and it seems there are still many more to come. 
Recently, Mubashir Lucman, a senior journalist from ARY network has openly accused Geo TV for airing blasphemous content in their popular Morning show 'Utho Jaago Pakistan' hosted by Shahista Wahidi.
Carrying on with the senseless concept of marrying people on air, Shahistan Wahidi arranged the marriage ceremony of one of the most controversial celebrities in Pakistan, Veena with Asad Bashir on her show. 
The on-screen dramatized marriage had all the elements of supreme idiocy including a sufi music band, insanely heavy clothing, the paid audience who kept clapping relentlessly and a joota chuphai rasam – all happening on the remixed version of a sufi qalam – Ali k Sath Hai Zehra ki Shadi. 
Lucman, on his famous Talk show 'Khara Sach' highlighted the whole ceremony and its idiocies whilst thrashing the channel for incorrectly depicting the whole meanings behind the sufi Kalam.
He blamed Geo's team of showing religious disrespect for playing a sufiana qawali depicting names of respected Islamic personalities and linking them with Veena's and Asad's wedding.
Watch the video here: 
However, in response to the blame Shaista Wahidi herself has appealed for a public apology after the realization of this blasphemous act. Her apology can be viewed here: