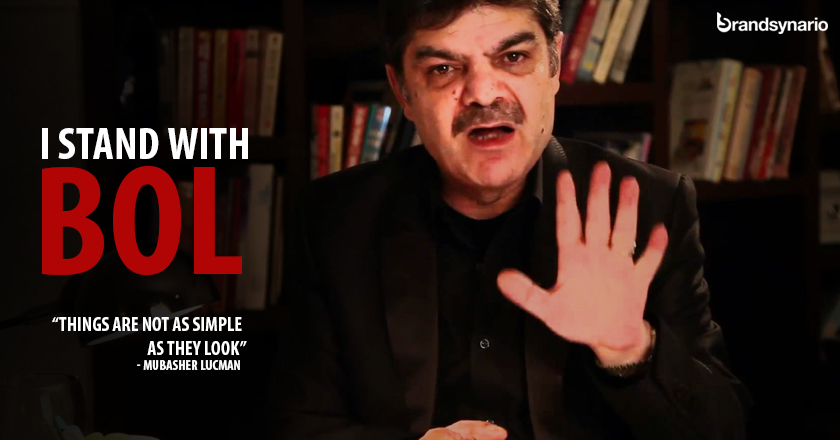 As journalists and media personnel flee BOL Media Group, veteran anchor and senior journalist Mubasher Lucman announces that he will "stand with BOL", and also that he "will shed light on the truth behind the BOL TV conspiracy soon."
Renowned for his outspoken show "Khara Sach", Mubasher Lucman is notorious for speaking his heart with little regard of status quo, tis being the reason for his strong fan base – which comprises mostly of youth.
Mubasher Lucman has announced his stand with BOL in these hard times on Twitter:
I stand with BOL at this time and with all journalists there who cant all find alternate employments right now

— Mubasher Lucman (@mubasherlucman) May 23, 2015
Don't know about the future but I can't desert people who are down and struggling May Allah guide me

— Mubasher Lucman (@mubasherlucman) May 23, 2015
Even in these hard times, it seems Lucman could not refrain from writing with his tongue in cheek, adding the part: '…who can't find alternate employments right now", implying that more journalists may still leave BOL.
Don't Miss: President and Editor-in-chief BOL Kamran Khan and Azhar Abbas Resigns from BOL Network
Lucman goes on to comment on those who have left already, saying that they should not return if BOL gets back on its feet. They have proved already that BOL was a replaceable mode of income for them – 'their conscience should not turn, and they better not come back'.
Sorry to hear about all deserting Bol TV at this stage wish the collective conscience works when channels are doing well too

— Mubasher Lucman (@mubasherlucman) May 23, 2015
Other than Lucman – Jasmeen Manzoor has also announced that she would not be leaving BOL, with a similar reaffirming her loyalties towards BOL.
I stand with Bol ! Inshallah this crisis will pass too

— jasmeen manzoor (@jasmeenmanzoor) May 23, 2015
The landscape of Pakistani media is at a flux currently – after Kamran Khan announced his disassociation with BOL. Soon after Kamran Khan's announcement, Asma Sherazi, Azhar Abbas and Nusrat Javed along with a couple of others announced their resignation from BOL media group.
Clearly BOL, the emerging media tycoon of Pakistan has suffered a setback, but like many examples before us, one may say; night is always the darkest before dawn.
Critics have both criticized and supported BOL on different circumstances – but as they say; a bad supporting argument for a good idea is often more detrimental than a good counter-argument, this seems to be the case with Axact and BOL controversy, as supporters come up with all sorts of futile and loaded supporting arguments.
On the contrary, Moeed Pirzada – another big name in Pakistan journalism has analyzed the complete landscape on a more rational level.
What do you think of this BOL/Axact Controversy? Do let us know in the comment section below.