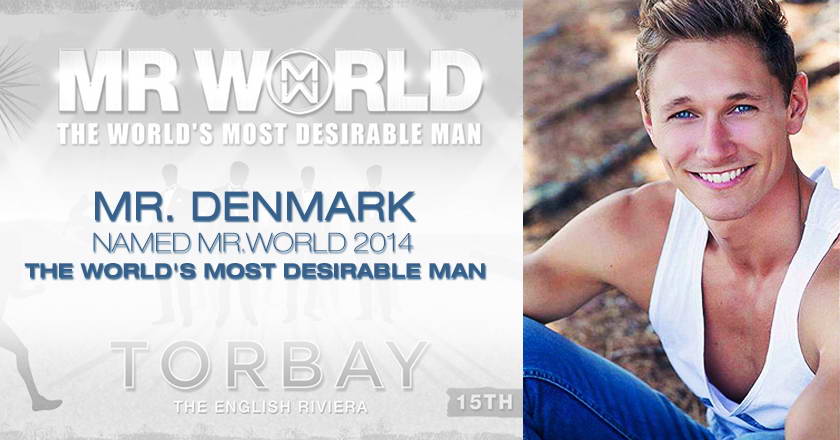 By Fatima Akhlaq
Let me introduce you to Mr. Denmark who has recently won the coveted title of  Mr. World 2014, leaving behind 45 other sizzling hopeful hunks including Mr. India, Mr. England and Mr. Wales.
The world's "Most Desirable Man' is a super-ripped carpenter Nicklas Pedersen, 23 from Brondby in Copenhagen. He was crowned as Mr.World 2014 at the finale ceremony held on Sunday at the Riviera International Conference Centre in Torquay, Devon.
Though none of us will probably get a chance to meet this handsome young man but to further break our hearts, he has revealed that he is in a serious long term relationship.
Nicklas says that he has always been smart and in shape, but he admits that he really had to work hard for the competition. "I have always been active. I love to play football, swim and hit the gym."
But in order to outstand everyone he had to see a personal trainer every single day, stick to a strict diet of proteins and vegetables only.  'No sweets, no chocolate, no ice cream. It was really hard, he admitted.
Nicklas, who describes himself as 'the happiest guy in the world', confessed that during his intense four-month prep he missed his favourite sweet treats.
Now that his jaw-dropping abs are no longer under intense scrutiny, he says he is looking forward to indulging in marzipan and nougat ice cream.
"After I won on Sunday night when it was all over, I needed to have some dirty food. I saw one of the Miss England girls eating Dairy Milk and I had to have some," he said.
'It feels amazing. I hoped to make it to the top ten but never in my wildest dreams did I think I would actually win. To be named Mr. World 2014 is ridiculous. A dream come true."
Nicklas entered the contest one random day when he was off from work.
"I hadn't heard of the competition before. I went on Facebook and saw something on Mr. and Miss Australia. I thought, "Who are the Danish equivalents?" So, I went on the website and applied myself."
"They came back to me after more than a year and said Denmark hasn't been awarded a spot in the 2013 contest. But then when Denmark was awarded for 2014, they asked if I was still interested. I went for interviews and beat 100 other Danish guys to become Mr. Denmark 2014." He continued.
Nicklas has now won a prize of $50,000 USD (just short of £30,000), but he says he has no idea what he's going to do with it just yet, as his priorities right now are travelling the world and philanthropy.
His strong performance throughout the competition added to his good looks, strong personality and great character made him the perfect Mister World, said the organizers.