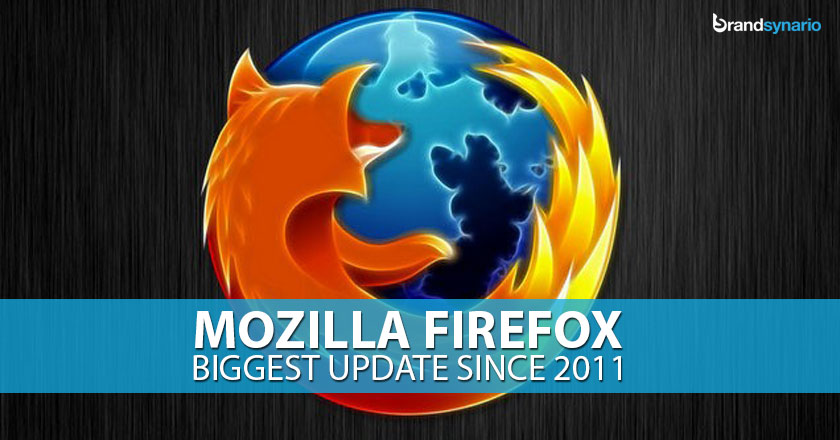 Firefox is introducing its biggest update since 2011, which is focused upon competing with all the modern browsers.
It is rumored that Mozilla has opted for these updates from its famous counterparts, like Google Chrome. The focus of the updates is to allow users a faster accessibility to some of the key functions of the browser.
The new "complete customization" feature by Mozilla allows users a complete access to customize their browsers as per their wish. Almost each and everything is now customizable, with simple dragging & dropping option, placing them where one wants them to be.
Not only has this but the overall outlook of the browser has also been given a custom change making it more attractive and easier to communicate with.
According to Mozilla's official blog,
"We reimagined and redesigned Firefox to reflect how you use the Web today and we are excited to introduce many features including an elegant and fun design, new menu, customization mode and an enhanced Firefox Sync service powered by Firefox Accounts,"
Mozilla has undoubtedly been somewhat distracted from the market for quite some time due to its CEO's sudden step down, after being declared as a part of anti-gay rights movement. This is the first update from company's side after the major incident.
This new update offers a new look to the browser including a clear aesthetic with round tabs and a three bar menu, which is much similar to that of Google Chrome's. While other changes include the compilation of major control options in a particular corner along with key features and add-ons, making the user navigation much easier.
According to Mozilla,
"The new Firefox Sync service is a safe and easy way to take your Firefox everywhere," while it also said,
"Firefox Sync gives you access to Awesome Bar browsing history, saved passwords, bookmarks, open tabs and form data across your computers and mobile Android devices. It is powered by Firefox Accounts and simplifies the setup and device syncing process."
An interesting fact about Mozilla's update is that the update came the very next day, when a bug was detected in Internet Explorer.