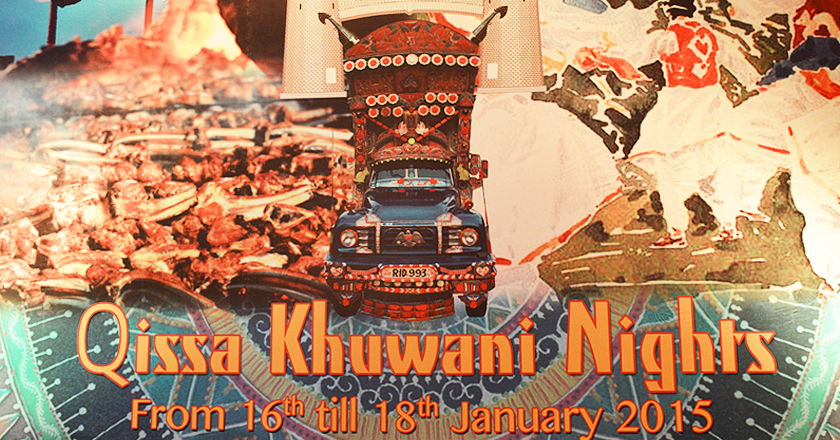 Movenpick Hotel Karachi is currently hosting an amazing event which highlights the traditional Pakistani culture from the northern areas of Peshawar with 'Qissa Khuwani Nights'.
In a 3 day festival, set up at the pool side of  Movenpick Hotel  Karachi i.e. from 16th Jan till 19th Jan, the festival is inspired by the famous story-tellers market aka Qissa Khuwani Bazaar of Peshawar. Here traditionally traders would meet up after work and over a cup of traditional tea 'kava' would share stories with each other.
The three-day event invites citizens to experience Pakistan's early history.
The venue has been decorated in a traditional country style with elements like truck art, rickshaw, truck, Lollywood movie posters, folk musicians and different street stalls combined together to provide a genuine look of that of Qissa Khuwani Bazaar.
One of the Bazaar's most amazing traditions i.e. its tasty Peshawari food has also not been forgotten. With food stalls at every other step, the event has been made extremely tasty for the visitors. Qissa Khuwani nights specially offers a buffet dinner prepared by some of the very renowned Peshawari Chefs who have been invited from the Namak Mandi of Peshawar itself.
These chefs which include, Haji Anaar Gul, Haji Anzar Gul, Haji Shafiullah and Qari Abdul Qayoum have come all the way from the province of Khyber Pakhtunkwa to offer some of the amazing Peshawari delights like Peshawari Murgh Yakhni, Patta Kabab, Namkeen Gosht, Lamb Chops, Chicken Sajji, Peshawari Pulao (Kabuli style), Qabuli Murg Palau, Saag Panner with live made Paneer Ki Roti, Chapli Kebab and Kandhari Nan which is also being made live.
The inauguration of 'Qissa Khuani Nights' at Movenpick hotel Karachi was done by Emil Wyss, Swiss Consul General (Consulate of Switzerland).
So make your way to Movenpick right now in order to explore one of the finest food experiences that Pakistan has to offer.
For more information visit here.