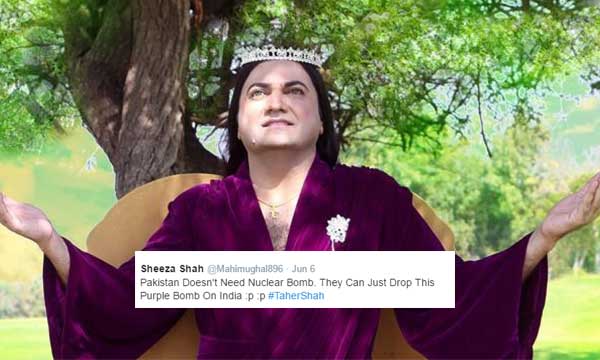 2016 has given us its fair share of entertainment. With the year coming to a close, it is finally time to put a cap to one of the most horrible and interesting year's out there.
With not only some serious political drama going down in the shape of Sheikh Rasheed or a Chaiwala suddenly becoming the next face of Pakistani modeling, like we said, it has been an odd year for Pakistan. With social media, the biggest influencer of trends, Pakistani twitter is not behind when it comes to making people into celebs and trends.
Here is our pick of the best tweets of 2016 that are bound to make your Monday!
When Mann Mayal finally bid farewell to the world
https://twitter.com/Anmol_Aleena/status/772760254287339521?ref_src=twsrc%5Etfw
Monday is the worst day since childhood,
Now #MannMayal became another reason to hate mon the most.

— Saima Khan (@isktweets) August 29, 2016
#BestofPakistaniTwitter pic.twitter.com/FtfhL2891f

— Bulb on hai 💡 (@Saqlainz) September 8, 2016
When rumors of Imran Khan's 3rd marriage broke hearts of many!
#BestOfPakistaniTwitter pic.twitter.com/C9Ftey1xMj

— Saad Amjad (@SaadAmjad_) July 12, 2016
When India made a fool out of itself with its 'so-called' surgical strike on Pakistan!
Lol okay😄😄😄
I was playing cricket, mistakenly my ball went to my neighbor's house.Called it #SurgicalStrike
okay india 😄😄😄#ChakDeIndia

— haider arshad (@haiderarshad1) September 29, 2016
India is behaving like a student who cheated in exam & got busted but don't wanna admit it.

— Fizza Abbas (@FiaBolRhiHai) September 29, 2016
Just carried out a surgical strike on beef biryani. What about you?

— Awais (@awaiskhp) September 29, 2016
When Trump made it to the cover of Time magazine and it was proved he is a devil in disguise!
Give that art director a raise pic.twitter.com/5Xe1RrOGbj

— Christopher Hooton (@ChristophHooton) December 7, 2016
Kareena and Saif became parents to Taimur Ali Khan's & Twitter had a field day
Taimur means Loha.
Saif and Kareena could have named their kid as Loha Ali Khan as his aunt was Soha Ali Khan.😹😹

— Hasna Zaroori Hai (@HasnaZarooriHai) December 21, 2016
Momina Mustehsan memes trended for days on the internet!
Qasmay ye bandi first song me kitni decent lagti thi -_-#CokeStudio#MominaMustehsan pic.twitter.com/5UXknsiYrw

— Cheese 😀 (@asjadaliii) September 12, 2016
Her engagement had Pakistani guys on the verge of tears!
https://twitter.com/iFia10/status/780389983047868416
Some criticism on cricket is a must for the nation!
Bhai scene ye hai ke Australia Pakistan se haray, india se jeetay aur phir khudkushi ker le , to chance hai apna. pic.twitter.com/iiBktvFYlT

— Waleed Nasir (@waleednasir00) March 23, 2016
When Urwa Hocane & Farhan Saeed's wedding is all that trollers were talking about!
Urwa ic Hocane
Farhan ic Caeed
Thic ic Incane#UrwaFarhan

— Usman Saleem Akhter (@UsmaanSaleem) December 16, 2016
PIA had a bad end of the year
#PIA pic.twitter.com/eIaLRlkt0L

— Saqib Azam (@saqiisays) December 25, 2016
And of course, how can we forget Taher Shah's Angel!
Dear Pakistani doesn't need nuclear weapons they can just drop this purple bomb on us #tahershah #SurgicalStrike @P4cosmic @TrollKejri pic.twitter.com/7VlnhXZjyr

— Tu 13 dekh (@deepak31oct) September 29, 2016