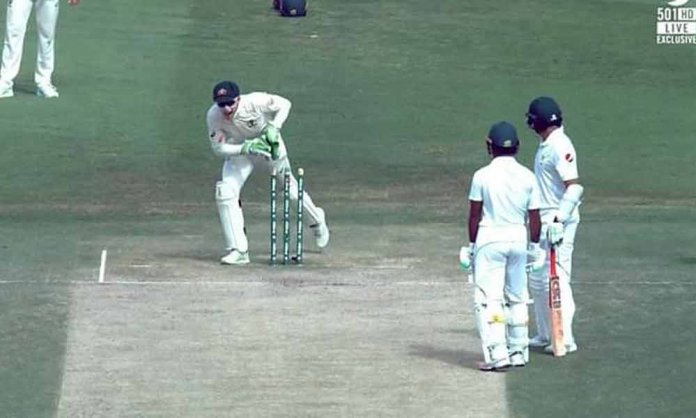 Pakistan Cricket team can be counted as one of the most formidable sides in the world, however, it has produced many players who have become famous for their brilliance as well as their dumbness.
Azhar Ali's latest dismissal in the second Test against Australia ranks as one of dumbest instances in international cricket where an experienced player has not only damaged his reputation but also the country's.
Let's take a look at how Azhar Ali fell prey to his own stupidity and then discuss his predecessors.
Azhar Ali's Dismissal
Wahab Riaz
Before him, there was his teammate Wahab Riaz who managed to win the award for national embarrassment for failing to deliver a bowl after 5 tries.
Shahid Afridi
Shahid Afridi was easily the King of Dumb players; who else would be on top especially when they have chewed the ball during the match.
T10 Cricket League 2018 Announced Sony Pictures Networks India as Official Broadcast Partners
Inzamam ul Haq
And if one had to pick the 'greatest' from the pack, that would be Inzamam ul Haq for he once hit a spectator with the bat, once fell on the stumps and ran nearly every other person on the planet because he wasn't fond of running.
Wasim Akram
Inzi had more funny dismissals than all others combined; who can forget the run out of Wasim Akram in Australia where he refused to budge despite his captain's screams!
Ijaz Ahmed
When it comes to bizarre dismissals, we used to have Ijaz Ahmed who usually acted as if he was playing his first match, every time he went out to bat!
Kamran Akmal
And if recklessness had another name it would have been Akmal as both Kamran and Umar Akmal kept Pakistan in the dark as to how they got selected for Pakistan for so long! Let's see some of Kamran Akmal's stupidity …
Umar Akmal
… followed by his younger brother Umar who was once bowled by a young girl in Norway.
Saeed Ajmal
Experienced off-spinner Saeed Ajmal also had his moments.
Salman Butt
Before he was found guilty of spot-fixing, Salman Butt showed glimpses of his character in a Test match against New Zealand
That's all folks!
Stay tuned to Brandsynario for more news and updates.