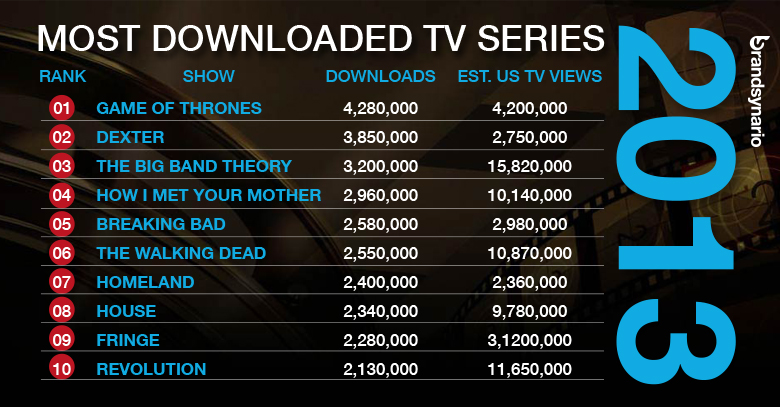 By Hassan Wasti
The year 2013 was dedicated to TV series that had us sitting on the edge of our seats. Mind blowing thrillers and epic dramas, love triangles and dirty politics; they all made a special place in our heart.
Like always, fans went to great lengths to keep in touch with the latest episodes and piracy took its biggest toll this year with hit shows like Game of Thrones and Breaking Bad making it to the top of the list released by TorrentFreak.
Episodes downloaded via BitTorrent were recorded the highest for HBO's original series Game of Throne which took the lead with 5.9 million downloads of its season 3 finale. 
Games of Thrones have been the hot favorite for many but due to lack of access to the original channels many around the globe prefer downloading unlicensed content off the net.
Second on the list was AMC's original Breaking bad with its record breaking 4.2 million downloads. Breaking Bad was named one of the all-time fan favorite on the list.
Also on the list was AMC's The Walking Dead  with 3.6 million downloads, becoming one of the top-rated series.The Big Bang Theory was not far behind with its 3.4 million, it also made it to the list successfully.
CBS popular comedy show How I Met your Mother came in with 3.0 millionmaking it the second show of the channel to be viewed off the internet.
CBS's restrictive streaming rules was one of the major reasons that led to piracy of its two biggest comedy shows. However websites with licensed content like Hulu and Netflix did offer shows like Arrow, but the Cw original series still made it to the list and bagged the 10th position with 2.2 million downloads. 
Rounding up the Top 10 are Showtime's Dexter  with 3.1 million, USA Network's Suits with a total of 2.6 million, Showtime's Homeland (2.4 million), and History's Vikings with 2.3 million.