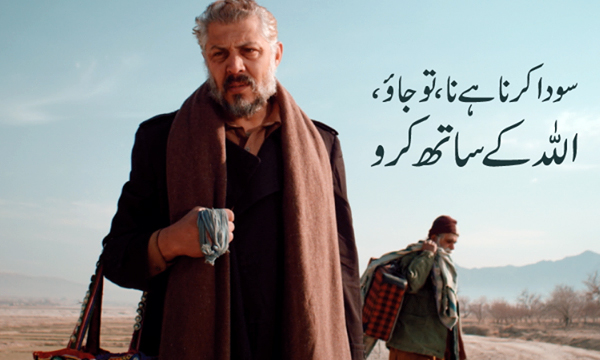 Disclaimer: The views expressed below solely belong to the writer and does not necessarily imply Brandsynario's opinion towards an individual, organization or a group.
Pakistani cinema has come alive recently but with movies that broadly fall under two major categories – the first one's more evident, the obvious Bollywood imitations (comedy or romance) and the cinematographic tribute to Pakistan's armed forces.
Check out: Listen to Moor's Complete Songs [HQ]
To put it all in a single sentence, Moor is a piece of art that inspires its audience into a soul searching expedition. Jami, the director and producer of the movie, has ensured to provide an experience – an experience that is an all-inclusive treat for your visual senses with its beautiful cinematography, inspires you to fall in love with Pakistan all over again with mesmerizing shots of Baluchistan, all the while educating you into becoming a better human being.
Don't Miss: Twitter Breaks After Moor's National Premiere
I must not be more than 100 seconds into the movie, when the goosebumps assured me of two things; first, this movie is going to be original, second, a very few people will be able to understand, let alone appreciate, the bravery of Jami & Mandviwalla Entertainment.

Semantic of a movie review require us to write a little about the movie plot, but rest assured even if the entire movie story is to be written here – you still should & experience the movie yourself, tis the beauty of Jami's work in Moor.
After all, knowing what northern lights look like and watching those God woven 'Aurora borealis' first hand, standing on a Norwegian northern mountaintop, is an entirely different experience altogether.
Storyline
The story unravels with Wahidullah (Hameed Sheikh), station master of 'Khost' railway station barely and unwillingly agrees to sell off Pakistan railway's infrastructure under his supervision, due to massive political influence and a certain promised monetary benefits.
All the while, as his son Ahsanullah Khan (Shaz Khan) who migrated to Karachi, finds himself deep in the moral dilemma of abandoning what is he inherited (the railways) and what he wants to achieve in his own life.

This simple yet thoughtful predicament drives the two characters through a conflict which makes Moor a slow paced, artistic, rich and deeply poignant story — and a meaningful emotional journey.
All the rest of the film is a labyrinth of sub stories, within plots, which unravel finally into a much larger tale, all the while tempting the audience with enough winds in the story to keep them fastened to cinema seats.
Moor can be deemed a movie ahead of its time in Pakistan cinema. After all, uninspired compositions often have the tendency to create history, and Jami may have just made ours.

Exclusive: 10 Unknown Stories Behind Moor the Movie
Moor in Pashtu means 'Mother', however the movie is not only about a person or a relationship, instead it's far more intricate. As profound as its name, the movie addresses patriotism, ownership, family and an enduring scuffle of making the correct choice.
The movie is definitely a game changer for Pakistani Cinema. The actors, especially Samia Mumtaz and Hameed Sheikh have given their best performance by far.
Don't Miss: Meesha Shafi's Complete Video Song 'EVA' (Moor 2015)
Jami has indeed played his Trump's card with depicting all the aspects of the script artistically. Moving forward to the music, Strings has stolen the show, nothing better could be said about how well they've complimented the movie's plot.

All is been said and done, the only thing you got to do this Independence Day is; Go book your tickets for Moor, take your family along maybe, but see for yourself what a beautiful country you live and what are the dark tales that surrounds us all and the significance of our choices, all of them, even the ones we chose not to choose.
Pakistan Cinema is finally free from the bollywood trail.