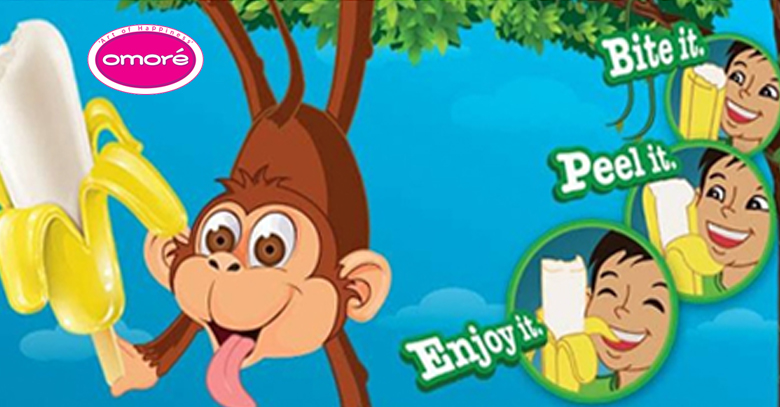 Karachi, 2013: Omore, the renowned ice cream brand of Engro Foods recently launched its new product, Monkey Peel targeting the young ones. The promotional campaign is ongoing these days and gaining interest from children around Pakistan with its exciting colors and concept of peeling a banana.
Previously, Omore launched Thanda Meetha Paan, which appeared with a very confident advertising, featuring Mohib Mirza, and compelled paan lovers to try it. The vibrant flavors and attractive colors of Thanda Meetha Paan surely netted the audience but the product failed to add profitability to Omore's business.On the other hand, Omore has again surprised with its new offer. Monkey Peel enters the market as a fascinating innovation and engages children with its influential advertisements. The concept of peeling the ice cream like a banana has no doubt captivated the children but Omore perhaps ignored the fact that Nestle holds patents for this innovation.
Nestle, world's leading food company launched its Peeling Pops in China and it proved to be a huge success. The Nestlé's promotional campaign featured a monkey peeling the gel on Vanilla ice cream. Same concept was featured in Omore's campaign with a similar mascot monkey. The entire promotional campaign seems to be copied from Nestle. Engro Foods, parent Company of Omore, might face charges from Nestle as Peeling Pops is a patent product of Nestle. Monkey Peel is likely to be a misfortune for Engro Foods.
Monkey Peel has been introduced in the market with strong marketing strategy and it has proved to be effective in terms of attracting audience but if proven that Engro Foods has probably copied the patent product of Nestle, the Pakistani industrial giant will be ingrave trouble if Nestle takes a legal action.