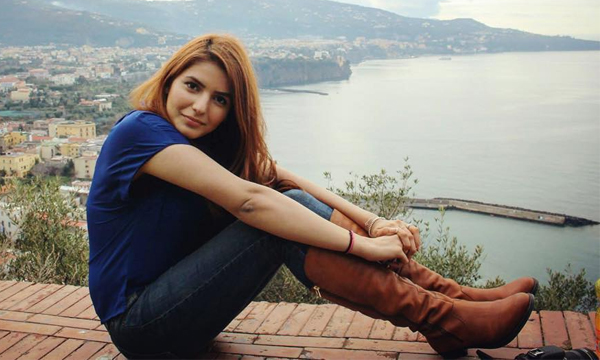 The latest Coke Studio sensation, Momina Mustehasan has taken over Pakistan's musical industry by storm. With her beautiful looks and nightingale voice, she has charmed over the hearts of people! And now her fans are curious to know about the singer's relationship status!
The rumor mill is buzzing with the gossip that the beauty is dating Ali Zafar's brother, Danyal Zafar! Candid shots of the duo are making waves on social media and people just cannot stop gushing over their cute pair!
But now Momina Mustehsan has broken the silence and spilled the beans about her love life. The songstress took to Twitter to dismiss all the tittle-tattle.
I'm not engaged to anyone, guys. Relax!

— Momina Mustehsan (@MominaMustehsan) September 15, 2016
While this tweet would have relieved many of her devotees, we must admit that Momena and Danyal look ah-ma-zing together! But seems like they are nothing more than friends!
Momina Mustehsan Sings for 'Zindagi Kitni Haseen Hai' Movie After Singing in Coke Studio 9
Twitter is ecstatic with Momina's declaration and is having a field day.
"I am not engaged guys, you may continue flirting."
-Momina Mustehsan

— Health and Fitness (@AnasBro18) September 16, 2016
Momina Mustehsan has brotherzoned Daniyal Zafar and it's been long time 😂

— Owais_A (@iOwaisAhmed) September 16, 2016
https://twitter.com/CapSafdar/status/776694015890690048
#MominaMustehsan pic.twitter.com/yUQTzaDFiJ

— ABRAR (@abrark714) September 16, 2016
https://twitter.com/Gotoxytop/status/776479947284152320
I am not engaged to @MominaMustehsan Guys, Relax. pic.twitter.com/1qt1xEt9K3

— Faheem Alvi (@faheemalvi4515) September 16, 2016
I Am Not Engaged To any one,Guys Relax#Tahir_Shah #MominaMustehsan Relative pic.twitter.com/jqcr3ETQBr

— Usman Khan (@Usman_khan_twts) September 16, 2016
You are momina shahzadian, not momina mustehsan, no one cares bro! 😂😂🔫 https://t.co/M2nURa7x2X

— Areesha. 🇵🇰 (@aaarreexx) September 16, 2016
Earlier in an interview with Brandsynario, Momina revealed her idea of romance.
"My idea of romance is respecting each other as the individuals that they are", she divulged.
Momina Mustehsan Interview: 10 Things About The Rising Star That You Must Know
With her soulful rendition "Afreen Afreen" featuring Rahat Fateh Ali Khan, Momina Mustehsan has sung her way into every Pakistani guy's heart. Sporting a huge fan-following, the songstress is now every guy's dream girl.
We wonder who will be Momina Mustehsan's prince charming! Hope we know it soon.
Stay tuned to Brandsynario for more updates!