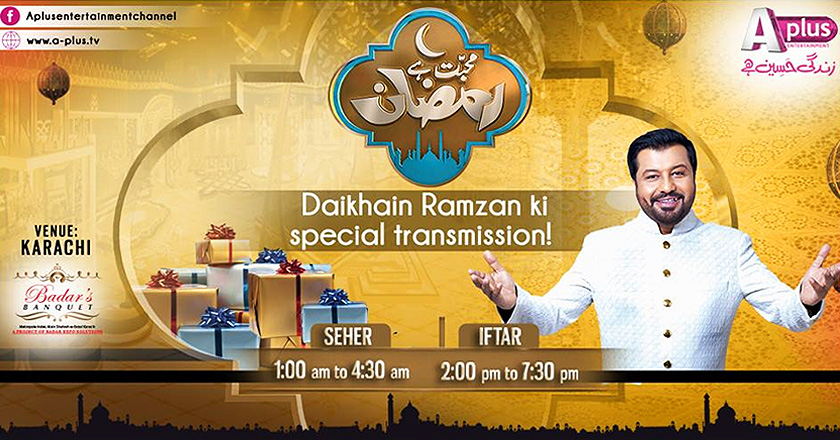 With Ramzan only 10 days away, A-Plus TV has announced the timings and registration details for its special Ramzan transmission, Mohabbat Hai Ramzan, hosted by A-Plus' very own Junaid Iqbal.
While A-Plus TV is Lahore-based, this particular Ramzan transmission will be held live from Badar Banquet, Karachi.
The soundtrack of the show has just been released. Listen to the track below: 
The singer and composer of this Ramzan anthem is Nabeel Shaukat and beautiful lyrics by Huma Naqvi.
Timings:
Seher transmission: 1 AM – 4:30 AM
Iftari transmission: 2 PM – 7:30 PM
The show will start on 1st Ramzan and will be continued for the entirety of the holy month.
Mohabbat Hai Ramzan will be aired daily from 1st Ramzan on A-Plus TV.
Registration:
To be a part of the show and win prizes, register for Mohabbat Hai Ramzan passes by calling 021-35835539 or 021-35834946.
While A-Plus TV does have a good following of its own, it is unlikely for Mohabbat Hai Ramzan transmission to do extremely well with competition from the trendsetter Aamir Liaquat, hosting Ramzan Shareef at Geo TV and legendary comedian, Umar Shareef, hosting Ramzan Hamara Emaan at Aaj TV.
There is no word on who will take over the position of the usual ARY Shan-e-Ramzan transmission host, Junaid Jamshed, since his presence would be controversial after one particular scandalous Islamic lecture last year.
Watch Mohabbat Hai Ramzan teaser below: