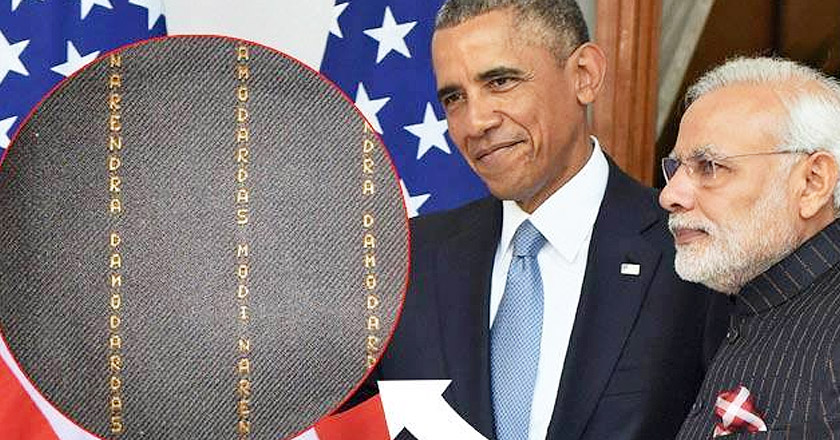 Turns out Sonam Kapoor is not the only fashionista India can boast about.
In a joint appearance with President Barack Obama, India's Prime Minister Narendra Modi, was sporting a close-necked, pin-striped suit which features his own name "Narendra Darmodas Modi" printed into the fabric in gold letters.
International Media is abuzz with excitement and furor, referring to it either as a style statement or as a subtle display of narcissism.
The suit was worn at Hyderabad House on Sunday Evening when Modi stepped out with President Obama for a press conference. The fashion community is quite impressed with the style statement.
Reportedly, the name has been imprinted on the fabric with great subtlety and finesse, the fabric is hand-woven too. Former Egyptian Leader, Hosni Mubarak has also worn a similiar suit, back in 2011
The man behind Modi's customized kurta is designer Raakesh Agarvwal.
According to Raakesh, the cost is somewhere between Rupees 80,000 and Rupees 5 lakh, depending on the fabric.
"This personalized textile is the in-thing … Burberry to Hermes, all are doing it," he stated.
Modi is fast becoming iconic for his apparel choices, be it his customized and well-tailored close-necked suits, his half-sleeved kurta or his choice of orange shawl.
The Indian citizens however, are not quite impressed by their leader's activities. Take a look at how the people have expressed their annoyance and poked fun at him for this bold move:
Mr Embarrassment goes international for his narcissism #Modi #ModiSuit https://t.co/M1tds68AUX

— Marie Gold (@OyeMaria) January 26, 2015
It's not what you wear, fool. It's how you wear it. #ModiSuit https://t.co/ZyaKsDvRqU

— Rupa Subramanya (@rupasubramanya) January 26, 2015
To hv your own name printed on the cloth u wear is a bit too childish. A PM of the nation does not need such kind of branding. #ModiSuit

— Just-Done-It (@sunderchand) January 27, 2015
"Sir, aapka visiting card?" *Takes off the suit and gives it* #ModiSuit

— Dipankar #LDL (@deep_anchor) January 27, 2015
Who needs to lose money to corruption when we can spend it on clothes? Clothes clothes clothes. I'm sure Sonam Kapoor would agree. #NaMo

— Rahul K (@peanutbut) January 27, 2015
Move aside Keanu Reeves from The Matrix, #NaMo is The One not Neo!! The Matrix code is now deciphered and printed on the #ModiSuit !!

— #ShitijYadav (@scorpioyadav) January 27, 2015
Indians trusted an Italian for 10 yrs and got nothing at least we can give a chance to an Indian in fancy suit. #ModiSuit #NarendraModi

— Sunny Vaish (@sunny_dude) January 27, 2015
Wearing a suit with your name weaved into it is not entirely unlike tweeting your own selfie and favoriting it. #ModiSuit #narcissism

— Yameen Rasheed (@yaamyn) January 27, 2015
NaMo x 100000 times is the new Michael Kors. #NarendraModi #NaMo pic.twitter.com/1FhktK4qF5

— Tamanna Wahi (@tamannaW) January 27, 2015