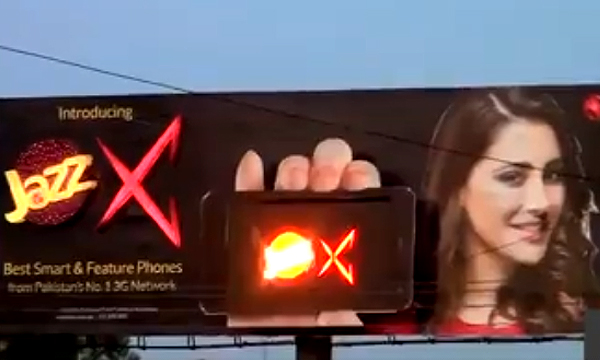 After the controversial publicity and advertising tactic for Mobilink Jazz X on Urdu Newspapers, Mobilink has now publicized its latest range of affordable smartphones in a more likable and innovative outdoor advertising campaign in Lahore.
The latest range of smartphones introduced by Mobilink fall under the banner of Jazz X and have been endorsed by Mobilink's long-term brand endorser and Bollywood actress Nargis Fakhri.
Take a look at the futuristic execution of LED Screen Billboard of Mobilink Jazz X Smartphones Range featuring Nargis Fakhri in Lahore.
[fb_embed_post href="https://www.facebook.com/BusinessIncounter/videos/673581199451854//" width="550″/]
The lighting and placement of the entire board is quite brilliant. It is emphasizing the Jazz X logo very creatively and perfectly captures the attention of onlookers and the people who are passing by.
The agency behind this effort is Kinetic Pakistan. There is an acute need for such creative and lively outdoor advertising efforts in the country.
Nargis Fakhri Responds to Mobilink Jazz X Print Ad Controversy
What is yout opinion of Mobilink's advertising efforts for Jazz X smartphones? Let us know your opinion in the comments below