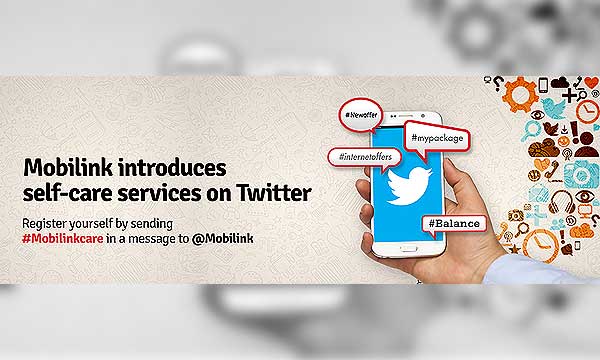 Mobilink and its parent company, VimpelCom, have partnered with Twitter, a microblogging service with over 320 million monthly active users, to introduce for the first time in Pakistan, an innovative self-care customer service called #Mobilinkcare.    
This initiative, for now only being launched by VimpelCom on Mobilink's platform out of its other 13 business units, enables subscribers to get answers to their basic queries related to Mobilink's services directly in their Twitter Direct Messages (inbox).  For example, if customers want to know their balance, a tweet with hashtag #balance to @Mobilink lands them their current balance on their Direct Message.

"Mobilink believes in continuous innovation, may it be our product offerings or customer care services. Ensuring subscriber queries are answered successfully in the least amount of time is an ever-evolving mechanism at our company," said Asif Aziz, VP Marketing – Mobilink.
"This landmark partnership with Twitter has various benefits for brand Mobilink, and can be heralded as a game changer in the industry. The service will allow us to reduce existing traffic on our customer care centers, assists us in promoting our latest offerings, while allowing increased engagement between our brand and customers."
Talking about the roadmap for #Mobilinkcare, he further added, "We also intend to bring our recharge and bundle subscription facilities on to the Twitter platform in the coming months."
With the launch of Mobilinkcare on Twitter, Mobilink becomes only the third telecom to implement such unique services for its customers.
Mobilink customers can register directly on Twitter by using #Mobilinkcare and associate their mobile number to Twitter account. Once associated, the user can simply send Direct message to @Mobilink and get automated services for the following commands
balance: Get information about your current balance
Mypackage: Get information about your existing voice and Internet plans
internetoffers: Get information about Mobilink's popular Internet offers available
voiceoffers: Get information about Mobilink's popular voice offers
smsoffers: Get information about Mobilink's popular sms plans/offers available
newoffer: Get information about Mobilink's new offers (Internet, voice, SMS)
This service is free of charge and is available both for prepaid and postpaid subscribers