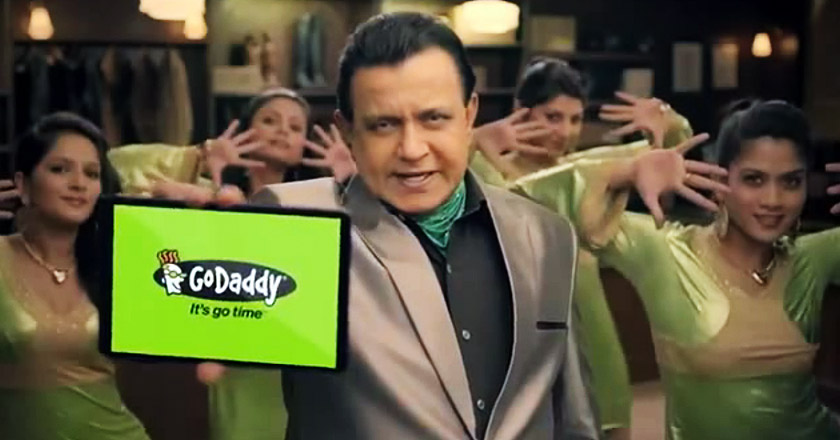 A Movie star, Disco Dancer, Rapper, Politician and not to forget, multiple National Award Winner, "Mithun 'Dada' Chakraborty" filmed a groovy TVC for the technology service provider "GoDaddy" 
The organization is the world's largest domain registrar, dedicated to small and medium enterprises (SMEs)
The fun and filmy campaign, featuring the legendary star of eighties, touts small ventures in India about the profitable advantages of internet advertising.
Dressed in a silver colored suit, hair gelled and dark glasses, "Mithunda" dances his way through the commercials in 80's style, explaining how a mere webpage can bring customers to a business.
Talking about his work on the campaign, Mithun said, "A website offers businesses amazing possibilities to get noticed and operate round the clock. I truly believe GoDaddy can help businesses in India go to the next level of growth quickly."
"I found this ad very cute and loved dancing for the commercial, and hence took it up," he also commented.
While critics are not sure about casting India's all time favorite "Disco Dada" for a technology service promotion,GoDaddy's Managing Director and Vice-President, Rajiv Sodhi believe that their brand made a pretty good choice.
"He compliments our creative strategy by adding to the celebratory mood of the business owners in the ad when they taste success. His appeal cuts across generations and his name is synonymous with dance," he explains.
Other than that, there is also coincidental synergy between the campaign's tagline "GoDada", Mithun's nickname "Dada' and "Go Daddy" itself.
Making its Debut in India in mid 2012, GoDaddy increased its business by 86% just within a span of a year.
Working for GoDaddy's campaign, Mithun starred in a countrywide commercial after a long time.