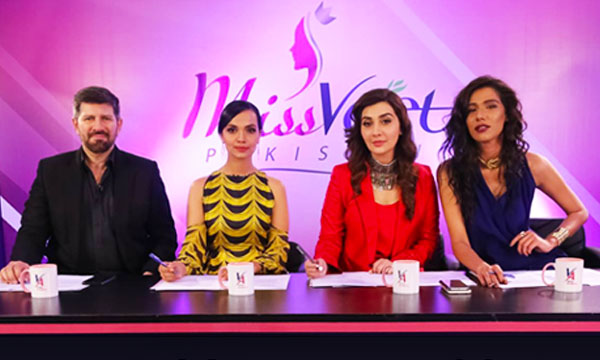 The popular brand Veet is known for instilling confidence in talented young girls. For the past few years, Veet has given a platform to them to come forward and showcase their skills. The reality show enables young women and harnesses their raw potential channeling it into something unique. This year Miss Veet Pakistan, while still searching for contestants, is offering women a chance to follow their dreams and make it a reality. With the help of this medium, participants will embark on a journey of personal transformation, like a chrysalis turning into a butterfly!
With this thought in mind, TV veterans Aamina Sheikh , Ayesha Khan along with Tapu Javeri and Faiza Ansari set out to find the most inspiring young women who wish to make a mark in the industry. As the news about the reality show being back on air spread, audiences eagerly tuned into the first episode of Miss Veet Pakistan broadcasted last Saturday. Within a few minutes, truly intrigued by what advice the stars had to offer the contestants, the ratings of the show skyrocketed.
The first episode was shot in Karachi. Girls from the city of lights brought their A game for the audition hoping to impress the judges. The judges not only helped the girls gain confidence, they also shared some advice based on their personal experiences in the industry.
A massive audience tuned in to watch as girls from Karachi tried to wow the judges. At the end of the show, when the judges began to announce the finalists, the TRP reached 5.4! That means people from across the country were at the edge of their seats waiting for results! When compared to the results of the previous week, at the same time slot the ratings of Miss Veet Pakistan were clearly on the top.
Watch the 1st episode of the show below.
A new episode is aired every Saturday! Don't forget to tune in.