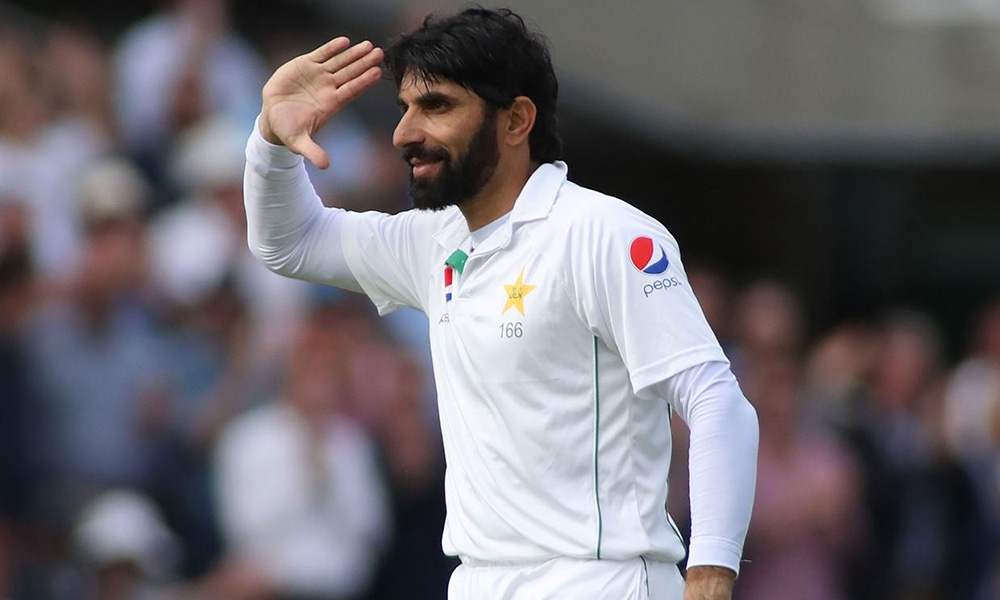 Thursday, July 14th, was the day Misbah-ul-Haq delivered one of the finest innings seen at Lord's, giving Pakistan something to be proud of for a long time. The Pakistani captain scored 110 off 179 balls at strike rate of 61.45. The right-handed innings included 18 hits to the fence.
The 42-year-old celebrated reaching the three figure score, in a rather distinctive way. Before acknowledging the fans excited cheers and the spectator's applause, Misbah saluted to honor the Pakistani Army Officers who helped the team during their preparatory camp before this tour.
He also did 10 push-ups on the field. Which was his promise to the Army officers.
https://www.youtube.com/watch?v=GibtVQz8hfk
"That was my promise to the army guys when we did our training camp. We used to have an honour code where we were told to step into the ground and do ten push ups. I promised them whenever I got hundred I would do that to remind them (Army) we were there. That was for them and the salute was for the (Pakistan) flag. That was what they asked us to do so I did it for them," he said.
Misbah and his men spent two weeks at an army boot camp in Abbottabad before this tour. As many young players struggled to perform the tasks assigned, Misbah and Younis Khan emerged as the fittest members of the squad.
A super duper knock by #Misbah! Loved the celebration push ups & the salute, we learnt at the Army Camp well done 💪🏼 pic.twitter.com/USYrf14duM

— Shoaib Malik (@realshoaibmalik) July 14, 2016
Well played Misbah bhai..a gem of knock n a fab day 1 for our team..good job..proud of u 👊🏼 #PakVsEng #Misbah #iBleedGreen 🇵🇰

— Ahmad Shahzad (@iamAhmadshahzad) July 14, 2016
#Misbah the marvellous pic.twitter.com/71ESWxLHki

— Murtaza Ali Shah (@MurtazaGeoNews) July 14, 2016
#Misbah well responded to his critics by scoring century in lords test. Form is temporary Class is permanent. pic.twitter.com/BZLWDZXbO5

— Farrukh Habib (@FarrukhHabibISF) July 14, 2016
Love the push ups! #misbah #PakvsEng

— Sharmeen Obaid (@sharmeenochinoy) July 14, 2016
He keeps defying logic, never met a more dedicated person, went full retard to be super fit for this series. He is 42 man, 42. #Misbah

— Rehan Ulhaq (@Rehan_ulhaq) July 14, 2016
Pakistan ended Day 1 with an impressive score of 282/6. Asad Shafiq and Mohammad Hafeez were the two other significant contributors with scores of 73 and 40 respectively.
Stay tuned to Brandsynario for updates.