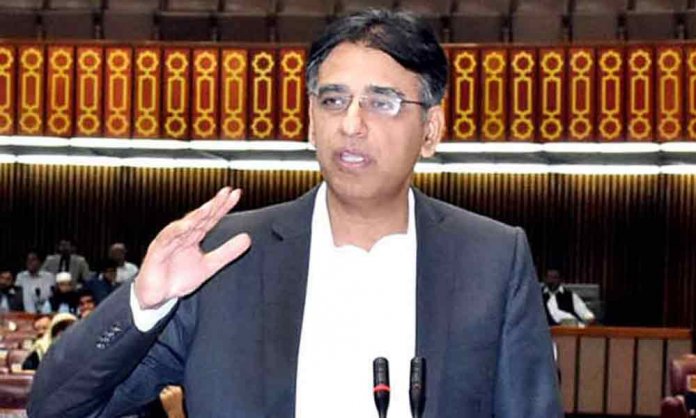 Mini budget 2019 was announced by Federal Minister for Finance, Revenue, and Economic Affairs Asad Umar in the National Assembly today.
The Minister began his speech by declaring that is not just a mini budget but rather a set of economic reforms.
Highlights Of The Mini-Budget 2019 
Tax on income from loans to the Small Medium Enterprises (SMEs) sector to be reduced to 20%
The agricultural tax will be reduced to 20%
Loans will be decreased to 20% to provide low-income housing.
Revolving fund up to Rs 5 Billion will be introduced.
Withholding tax for filers on banking transactions will be abolished in order to encourage the practice of paying taxes.
Non-fillers will be allowed to buy small and mid-size cars up to 1300CC
Increase in tax on vehicles over 1800CC
Non-filers can buy a house worth 50 lakh
The tax has been decreased to Rs5000 for small wedding halls up to 500 square feet.
Elimination of Duty on import of newsprint
30% tax on mobile cards restored
Those who are investing in solar panels and wind turbines will not have to pay sales tax and customs duty in the upcoming five years
No tax on bids for sports franchises until profitability
Super tax eliminated for non-banking companies from July 1
Continuation of 1% per annum reduction in corporate income tax
The tax will remain the same for expensive phones and will decrease for low priced phones
Scheme to be introduced of promissory notes for exporters. It will enable any exporter to take loans from banks on these notes.
Duty on diesel engines for agricultural purposes decreased to 5%.
Pakistanis React to Mini Budget 2019
Pakistanis have heartily welcomed the new financial reforms and are thanking Asad Umer for tax relaxations.
WRONG WAY TO PROTEST BY OPPOSITION. @Asad_Umar brought so much good reforms in regards to taxes. So much reduction in almost all the taxes. Shame on opposition. #MiniBudget

— Mohammad Ali Raza 💉 (@DrAliraza) January 23, 2019
100% tax free for investment in alternate energy sources !
All machinery imports for renewable energy (solar and wind) power plants will be tax, customs and levies free.

Fantastic measure.#AsadUmar #MiniBudget

Thank you sir @Asad_Umar

— SYED ALI NAQVI (@syednaqvi7212) January 23, 2019
#MiniBudget #PSX relief on tax on Intercompany dividend, removal of 0.02 % WHT on trading and abolishment of tax on retained company earning. Also carryover of capital losses to three years. #LaoMaalPSX

— Faraz Ahmed (@Faraz_BizWriter) January 23, 2019
#MiniBudget: Some really good steps in the right direction

– Tax break for renewable energy machine imports, sales and income
– Higher tax on 1800cc or higher cars
– 50% decrease in tax for agriculture & small businesses
– removal of withholding tax on banking transactions

— Salman Ahmad (@SalmanAhmad) January 23, 2019
Finally having smile to middle class and business community
Good job finance Minister @Asad_Umar #minibudget

— Sajid Mughal (@sajid_287) January 23, 2019
Bravoo @Asad_Umar what a home work you have done to encourage Business and Investment in Pakistan. Also your tax exemption for renewable energy resource industry will bring boom in Power Sector. Congratulations to your team.#MiniBudget#CorruptOppositionIsCrying

— Hamid Bukhari (@Zer0ZeroOne) January 23, 2019
Today media & opposition are proving that they are on an anti state agenda.#MiniBudget

— Wajid Ali Chattha (@wajidchattha) January 23, 2019
Opposition is doing a great job. Asad Umar is decreasing taxes and they are protesting. Good or expose apnay aap ko.
Btw lets see if "intelligentsia" calls out this BS by them. Rotay parliament or jamhuriyaat ko. #MiniBudget

— Musa (@MusaVirk18) January 23, 2019
This a developing story.
Stay tuned to Brandsynario for more updates.