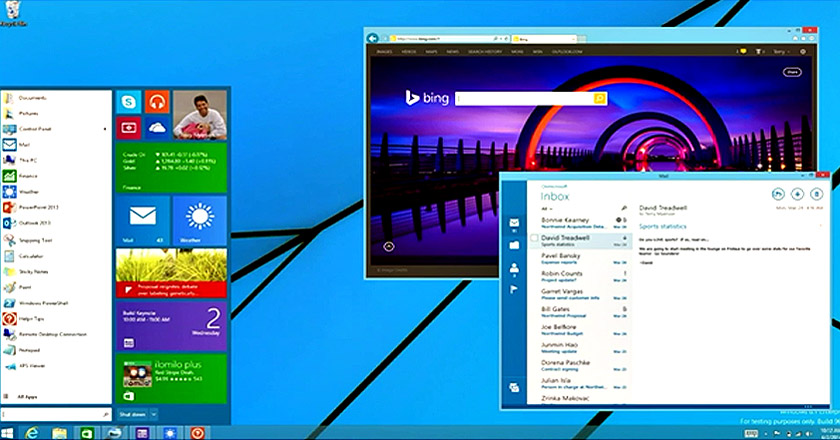 Microsoft announced its Windows 8.1 Update at the Build conference 2014.
The leaked versions of this much anticipated update from Microsoft had been surfing on the internet from quite some time now.
The scoop from Wzor entails that Microsoft is planning to incorporate the famous Windows Start menu back in its newest yet due update of Windows 8.
With the latest update it has been made clear that the tech giant is working to make its new Windows UI more appealing to the users, by giving them access to their loved features from the previous versions of Windows, which includes the iconic Start Menu as well.
The most recent update that is due to be launched later this year will include some surprising upgrades, including an even more interactive user interface.
Windows 9 Release Date
As for windows 9, the complete upgrade of windows with a combination of many new and old features is also being predicted to be on its way but the exact dates are yet to be revealed.
Commenting upon a question Microsoft's communication chief, Frank Shaw said that
"The company wasn't ready to talk about how often Windows might come out."
While he agreed that, "you have certainly seen across a variety of our products a cadence that looks like that; Windows Phone is a good for example of that, our services are a good example of that."
While the exact dates of Windows 9 are still undecided, the business chief for Microsoft, Tim Reller mentioned in a statement that there will be "multiple selling seasons" for Windows 8.
This entails that we might witness a lot more windows 8 upgrades before finally moving on to Windows 9.
However rumors suggest that Windows 9 will be available  either by the end of 2014 or in the beginning of 2015 as the New Year's gift from the Corp itself.