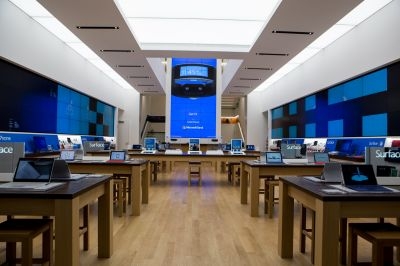 The doors to Microsoft's first, flagship store are set to open in New York today, to become the company's largest retail space to date.
After six years of planning, the Microsoft Store will open at 677 Fifth Avenue, where products will be showcased across two floors spanning 22,269 square feet (2,070 square meters).
In addition to Surface, Lumia, and Microsoft Band devices, the store will be the only location to showcase Microsoft Surface Hub, a conference system designed for group work.
Staff at the flagship store will speak 19 languages including Spanish, Hindi, Mandarin, Arabic and Russian, to help customers from New York and around the world.
Microsoft has about 110 retail stores across the US, Canada and Puerto Rico.