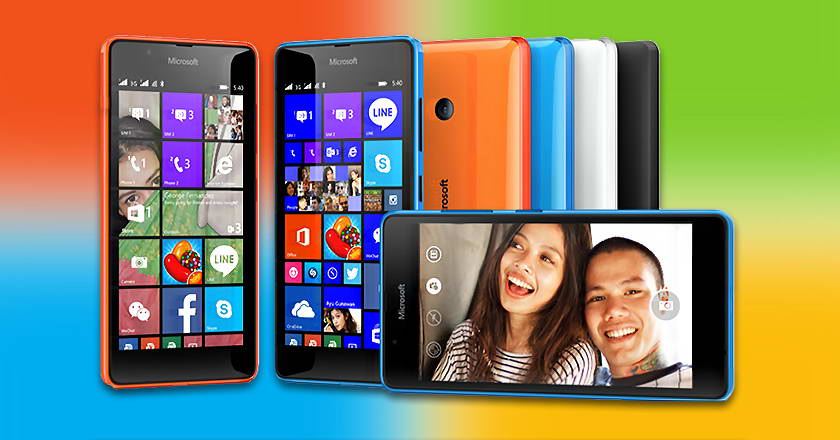 Microsoft recently unveiled the Lumia 540 Dual Sim as its newest warrior to fight it out in the market. Lumia 540 Dual Sim has surely turned some heads around. It has been positioned for people looking for their first serious smartphone. It profiles young and ambitious people who like to work and play on the go. It has been designed carefully taking in the needs of the customers both monetary and functional. The phone will go out on sale in May this year.
As Microsoft's senior design manager of industrial design and mechanics Lain Pottie quoted "Our customers are the source of so much inspiration, but we know they have different needs and budgets, so we always want to provide choice. That's why today we're introducing the new Lumia 540 Dual SIM."
This phone that has been priced at a reasonable $150 (15000 PKR approx) reflects the words of Mr. Pottie. It has been designed for the consumers who are value conscious yet want a powerful package in the price. This phone has been priced carefully for the regions of the Sub continent, Asia pacific, Africa and the Middle East, Italy etc. The price may vary a little in Pakistan due to different duties, taxes etc.
So what does this new phone pack? Well this particular Lumia boasts a 5-inch HD IPS LCD display with a resolution of 1280 x 720 and packs in 294ppi pixel density. The screen aspect ratio is a widescreen 16:9 which is great for viewing movies, shows and images.
Latest Windows 8.1 edition manages the system with the Lumia Denim UI at its side. The phone can be upgraded to the latest Windows 10 edition soon to become available this year. It comes preloaded with the latest of the Microsoft suite services such as MS OFFICE (Word, PowerPoint, OneNote and Excel), Skype, Outlook and OneDrive. With the OneDrive, the phone users will have access to 30GB of free cloud storage at their disposal. More apps can be downloaded from the Windows Phone Store.
A 1.2 Ghz Quad-core Qualcomm Snapdragon 200 processor powers up the device. 1 GB of RAM is enough to handle the tasks appointed for the phone. The phone has a built in storage of 8GB with an expandable storage option of upto 128GB through a microSD card. The battery has a 2200 mAh capacity and should last a day or near, depending on use. It is also 3G enabled.
Lumia 540 DS houses an 8 MP rear camera featuring Auto focus and LED flash. The front camera is a 5 MP camera that has been designed with a wide-angle as per on-going trend of selfies. This also helps in Skype conversations to give a more wide and accurate view.
Lumia's Smart Dual Sim feature lets you assign and customize unique profiles for your SIM cards for example 'Family' or 'Work'. Lumia stays true to its range with a layered neon color type luminous design and removable back covers. Available in a range of colors Black, White, Cyan and Orange.