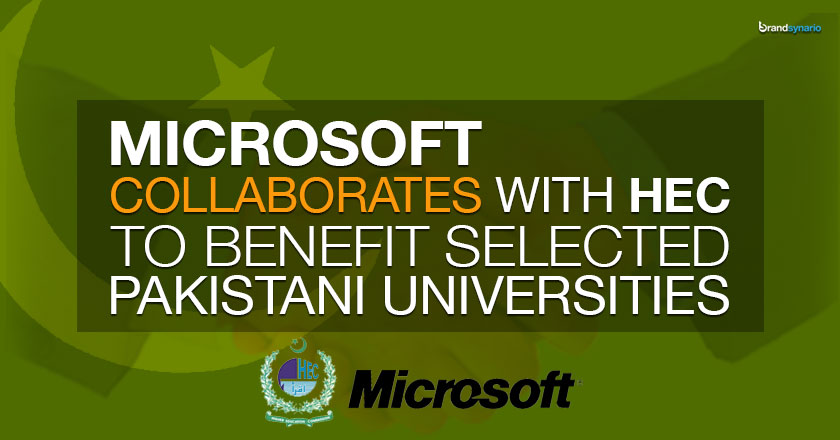 Microsoft Pakistan in collaboration with HEC (Higher Education Commission) Pakistan is offering technical training ,software handling workshops and training programs that will aid in empowering Pakistani youth with needed expertise for today's job requirements. 
This program will benefit more than 156 universities in Pakistan enabling students and instructors in Pakistan to realize their full potential.
The significant features of the partnership includes free access to latest Microsoft software products, conducting trainings & workshops by competent and certified Microsoft trainers, creating opportunity to participate in global technology competitions and content for curriculum design.
Students of associated universities will have to check with local administration to gain free and easy access to Microsoft resources which also include free licensed software by Microsoft.
According to IDC more than 50% of today's jobs require some technology skills, and experts say that will increase to 77% in the next decade.
Amir Rao, Country Manager, Microsoft Pakistan commented,
"We want to deliver solutions that help transform education, and create truly connected, immersive experience. The objective of this initiative is to promote education and encourage universities in the public and private sectors to develop their technical skills, have access to latest software and take advantage of curriculums from global top-notch universities so that students and academia could benefit from international standards of technical education and development."
While Anwar Amjad, Director General (IT) of the HEC stated,
"Providing enabling environment to the academic and research community of the country has been at the forefront of HEC's vision since inception. HEC aims to provide an environment which ensures quality education and productive research contributing towards the socio-economic development of the country."
With Microsoft joining hands with HEC, Pakistani youth will be getting the opportunity to learn and